Installed
VMWare Client Integration Plugin v6.2 (For Internet Explorer 11 and Firefox Ver. 66)
and
VMWare Client Integration Pluginv6.0 (For Google Chrome Version 73.0.3683.103 (Official Build) (64-bit))
on a
Windows 7 Enterprise SP1 (64-bit) PC.
What Works
- ISO upload to VMWare vCloud Director Catalog works using Internet Explorer 11 only (does not work with Chrome and Firefox) on the PC.
Workaround in place - Console Content Access works for all the same VMs via a Windows Server 2008 R2 Standard Server from within the same environment (setup by someone else not contactable)
(This Server will be decommissioned soon - so need the console working on the PC before the server gets decommissioned)
What Does not work
– VMWare vCloud Director WebMKSConsole Content Access – for any VMs – using any Web Browser (IE, Firefox or Chrome)
Get the following screen – doesn't matter whether the URL is DNS Name or via IP Address.
Troubleshooting done
- Added DNS Name to local host file on PC (which made the ISO upload work)
- Reinstalled VMWare Client Integration Plugin v6.2 , v6.0 and v5.6 after uninstalling, reinstalling and rebooting a number of times.
- Added Firewall Exclusions on Local PC for all profiles (Domain, Private and Public)
- Installed the Valid Certificate for FQDN in Automatically Selected Store and the Trusted Root Certificate Store.
- Tried Troubleshooting described on various VMWare Website and Forums – some were unclear.
- VMWare Tools on most VMs updated to Version 10305.
- Have Local Admin Rights to the PC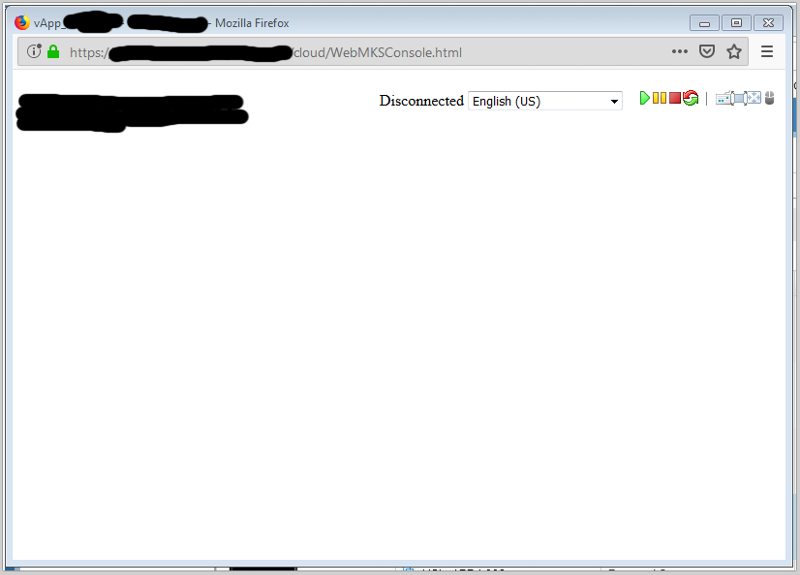 Need help with location of root cause of problem / log files specific to problem and get the WebMKSConsole.html working on any browser.