I'm working on application which requires different type of inputs and i'm storing that required files and folder in my "Release" output folder.
Also i'm using that paths in mycodes like below format;
 Dim dbDir As String = Path.Combine(Environment.CurrentDirectory, My.Settings.str__data_dir, My.Settings.str__data_db)



In fact when i'm running in "Release" , Environment.CurrentDirecto
ry is D:\TestCode but after i published the code all my paths is changed to RoamingData folder as you can see on error message when my application didn't found the path.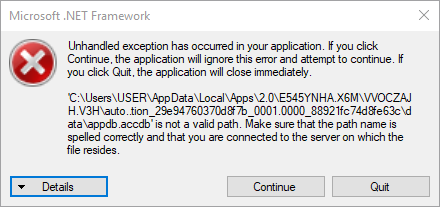 After that i asked a question and realize i shouldn't built my path structure to Environment.CurrentDirecto
ry.
So now i wonder when we're installing a commerical software that comes with several folder structure(like below image), what's the approach that programs use this directories.
I'm asking this because i'll be creating different folder structures and i want to access them in all cases.
Any help would be grateful.