Preface:
As you can see from my image I am trying to simply update crystal reports I currently have service pack 5 version 14.2.5.2618 The current service pack is 7 and I need to get this license updated. The purchase was made last year August 2018 so I assume I should be able to get the Patch or service pack etc. without any kind of issue or need have purchase.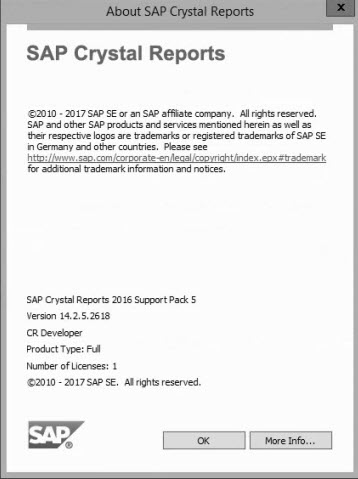 When I went to the Check Updates in the Crystal Reports Startup Tab I was surprised to see all the updates packages and patches.
I was surprised to go to the SAP portal and see how to do an update if that is the only way or correct way? Years ago it was very simple to click check updates and crystal just handled it for you now it looks like I'm faced with over 40 updates and service packs…..or am I?
From what I can tell this link shows me some things I can do.
https://help.sap.com/viewer/9fe2522cc23841d389160e24e801186f/2016.7/en-US/476062406e041014910aba7db0e91070.html
Looks like a Modify or Repair might work?
Do I need to just download the latest version and install it so I will have two side by side copies or do I have to go through 40 patches updates SP's etc?
Problem 1 is I just want updates not upgrades. Purchase was made Aug 2018 so I assume updates are possible not upgrades.
Problem 2 hard to get hold of the license Product key when Owner is on 10 day vacation out of country.
So can anyone tell me how to update Crystal Reports with service packs, patches critical updates and …whatever it needs?