How can I get better performance with my sql query in a SP? if you look at below my execution pan you will see that :
IF NOT EXISTS(SELECT * FROM Common.[CustomerEntityIds] WHERE EntityType = @EntityType AND CustomerId = @CustomerId)



has alot of memory usage. How can I reduce that?
ALTER PROCEDURE [Common].[SaveCustomerEntityIds] 




(




	@EntityType	NVARCHAR(128),




	@CustomerId	INT,




	@EntityId	INT OUTPUT




)




AS




BEGIN




	SET NOCOUNT ON;





	IF NOT EXISTS(SELECT * FROM Common.[CustomerEntityIds] WHERE EntityType = @EntityType AND CustomerId = @CustomerId)




	BEGIN




		INSERT INTO Common.[CustomerEntityIds]




					([EntityId]




					,[CustomerId]




					,[EntityType])




				VALUES




					(0




					,@CustomerId




					,@EntityType)




	END





	UPDATE	Common.[CustomerEntityIds]




	SET		[EntityId] = ([EntityId]) + 1




	WHERE	[EntityType] = @EntityType




			AND CustomerId = @CustomerId





	SELECT	@EntityId = EntityId




	FROM	Common.[CustomerEntityIds]




	WHERE	[EntityType] = @EntityType




			AND CustomerId = @CustomerId




END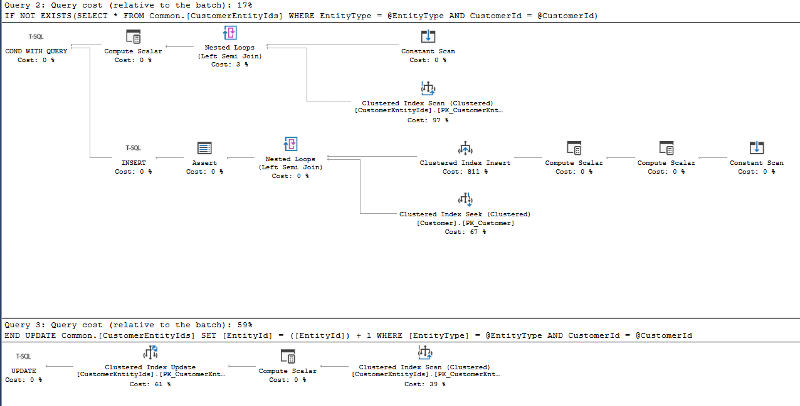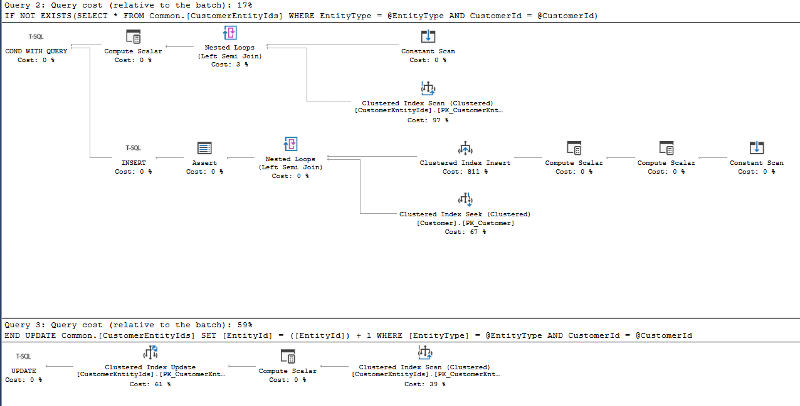 ExecutionPlan2.sqlplan