We have an issue when loading a website on our IIS server. Is anyone able to advise where we start in resolving this?
For reference, we have removed the server from the domain and re-joined it in the hopes this would help, but it hasn't made any difference.
IIS Server connects to a separate SQL server for its database.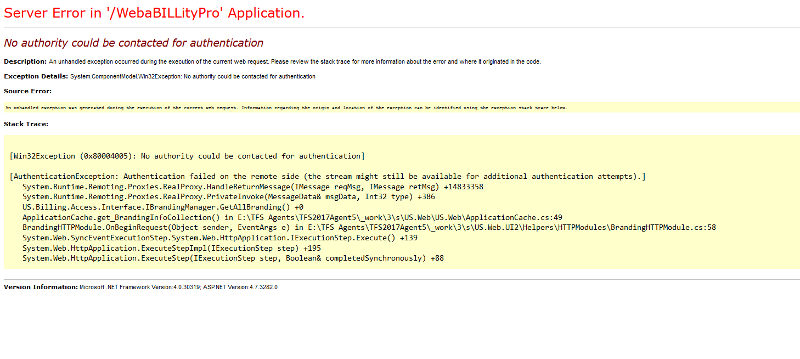 We are also seeing an ASP.NET issue in the event log:
Event code: 3005
Event message: An unhandled exception has occurred.
Event time: 7/18/2019 1:54:10 PM
Event time (UTC): 7/18/2019 12:54:10 PM
Event ID: 9eec4075582648cbae1807c776
b5b714
Event sequence: 8
Event occurrence: 7
Event detail code: 0
Application information:
Application domain: /LM/W3SVC/1/ROOT/WebaBILLi
tyPro-1-13
2079278328
427605
Trust level: Full
Application Virtual Path: /WebaBILLityPro
Application Path: C:\inetpub\wwwroot\WebaBIL
LityPro\
Machine name: WEB-ABILITY
Process information:
Process ID: 3068
Process name: w3wp.exe
Account name: IIS APPPOOL\.NET v4.5
Exception information:
Exception type: Win32Exception
Exception message: No authority could be contacted for authentication
Request information:
Request URL:
https://billing.intechtelecom.co.uk:443/WebaBILLityPro/Login.aspx?z=fafe553b-315e-4920-aecf-d35b4c72c6cb&z=fafe553b-315e-4920-aecf-d35b4c72c6cb
Request path: /WebaBILLityPro/Login.aspx
User host address: 51.52.75.191
User:
Is authenticated: False
Authentication Type:
Thread account name: IIS APPPOOL\.NET v4.5
Thread information:
Thread ID: 7
Thread account name: IIS APPPOOL\.NET v4.5
Is impersonating: False
Stack trace:
Custom event details: