Good Afternoon,
I am just starting off with Sharepoint and need some assistance with the below.
My companies headquarters is hosting our sharepoint site, while I do have full access to the site they created for this branch, I do not have access to any code on the backend.
1. Can someone tell me what each Document Template is used for and which would be a good fit for each department.
My branch is coming from the departments saving files on a Windows 2008 R2 file server, but now headquarters wants all files to be on the sharepoint. Users have been saving all sorts of files (PNG, DOCX, XLSX, ZIP, MP3, EXE, BAT etc).
I would like to set up each document library for the departments to be able to file any file they wish, like they could when using the file server.
When I created a new document library I am given a drop down to select from. While a lot of the choices I see are self explanatory (Microsoft Word Document etc), I am more keen to know what the below options provide to me:
-None
-MS SharePoint Designer Web Page
-Basic Page
-Web Part Page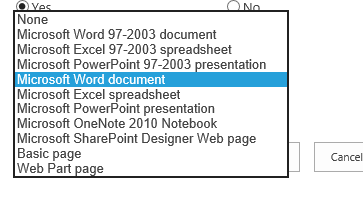 Please be as detailed as possible on what they do. I created test pages of each to see if I could figure out the difference, but they look all the same, I don't see any key differences.
2. Remove buttons from the Document Library (which won't be used).
With each document library I created I see some menu buttons. For example the "Export to Excel" button or the "Flow" button. How can I remove these, as I want users to be restricted from experimenting with these options.

Kindly be as detailed as possible in your answers. I am a newby to sharepoint and have only been a few days playing on it and would like some thorough answers to my questions.
Kind Regards,
K