I'm having an issue opening a Word 2016 document in Protected View I was hoping for some expertise with.
When I try to open on local drive, I"m getting this error: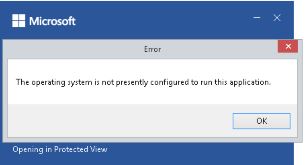 I then look at the properties and have the option to "Unblock" in the security settings as shown here:

Issue:
This does open in "Protected View" on another workstation I have but NOT in my VDI environment.
All policies are the same, and "Protected View is Enabled in both environments - therefore the issue is I cannot open in Protected view in my VDI environment - on LOCAL storage.
Note 1: If I copy the file to One Drive, or Sharepoint online and open with either Word or Word online - I do not get the error and it opens without being in protected view.
The only real difference I have noticed is with "Trusted Publishers".
On a workstation where it opens without issue in Protected view, here is what the Trusted Publishers looks like:
On my VDI, where this does NOT open in protected mode and errors out, this is what my Trusted Publishers looks like:
Other than turning off protected mode in each app for 2016, is there a reason for this or other work-around or explanation?
Thanks in advance experts!