Hi,
here my project : Migrate Fortigate VM64 v5.6.8 build1672 (GA) to a Fortigate 500e v6.0
The Fortigate VM64 is installed inside a Vcenter ( 4 ESX) with different Vswitches.
Physically the ESXs are on a FC SWITCH with different VLAN.
Here the configuration :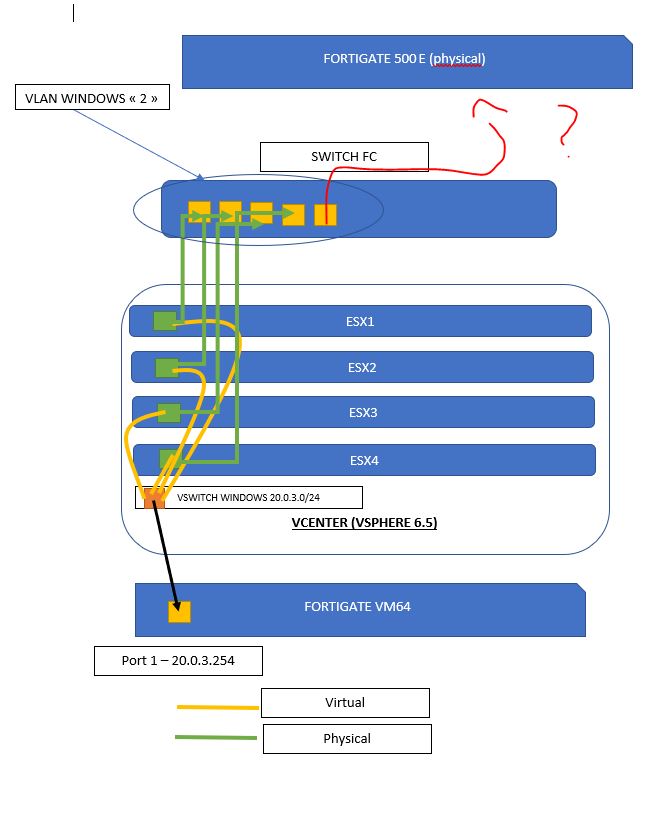 So I think I should do that before migrate :
-Upgrade FG VM64 to v6.0
-Copy the FG VM64 config and adapt it for the FG 500E
-Plug a cable between the FC SWITCH (with the good port and vlan) to the correct interface on the 500E.
-Mount the same interface on the 500E (with the good vlan and should be the same from the FG VM64)
-Turn off the old interface on the FG VM64
-Test
-Repeat for each interface
BUT, I think I missing something on the vcenter, any ideas?