Hi Experts,
Wondering is someone could help me out.
We normally send word doc to the printer via a VBA macro so I can control which tray we use in the printer \ copier.
I picked up a ticket from a user - some document which came from practical law just will not print.
I get a Run time Error 4608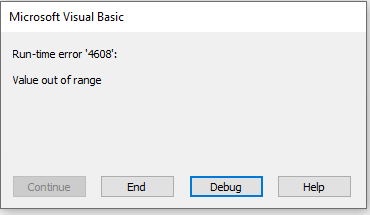 If I clear all the formatting it will work
Code below but basically just a recorded macro
FirstPageTray = wdPrinterLowerBin
OtherPagesTray = wdPrinterLowerBin
being the important part as sets tray three on our hp printer
I must stress the code works on 99% of doc but there is something funky about this document
This is the code
Sub CPSE_Plain()
'
' CPSE_Plain Macro
'
'
Selection.WholeStory
With ActiveDocument.Styles(wdSt
yleNormal)
.Font
If .NameFarEast = .NameAscii Then
.NameAscii = ""
End If
.NameFarEast = ""
End With
ActiveDocument.Content.Ori
entation = wdTextOrientationHorizonta
l
With ActiveDocument.PageSetup
.LineNumbering.Active = False
.Orientation = wdOrientPortrait
.TopMargin = InchesToPoints(1)
.BottomMargin = InchesToPoints(1)
.LeftMargin = InchesToPoints(1.25)
.RightMargin = InchesToPoints(1.25)
.Gutter = InchesToPoints(0)
.HeaderDistance = InchesToPoints(0.5)
.FooterDistance = InchesToPoints(0.5)
.PageWidth = InchesToPoints(8.27)
.PageHeight = InchesToPoints(11.69)
.FirstPageTray = wdPrinterLowerBin
.OtherPagesTray = wdPrinterLowerBin
.SectionStart = wdSectionNewPage
.OddAndEvenPagesHeaderFoot
er = False
.DifferentFirstPageHeaderF
ooter = True
.VerticalAlignment = wdAlignVerticalTop
.SuppressEndnotes = False
.MirrorMargins = False
.TwoPagesOnOne = False
.BookFoldPrinting = False
.BookFoldRevPrinting = False
.BookFoldPrintingSheets = 1
.GutterPos = wdGutterPosLeft
.SetAsTemplateDefault
End With
Application.PrintOut FileName:="", Range:=wdPrintAllDocument,
Item:= _
wdPrintDocumentWithMarkup,
Copies:=1, Pages:="", PageType:= _
wdPrintAllPages, Collate:=True, Background:=True, PrintToFile:=False, _
PrintZoomColumn:=0, PrintZoomRow:=0, PrintZoomPaperWidth:=0, _
PrintZoomPaperHeight:=0
End Sub