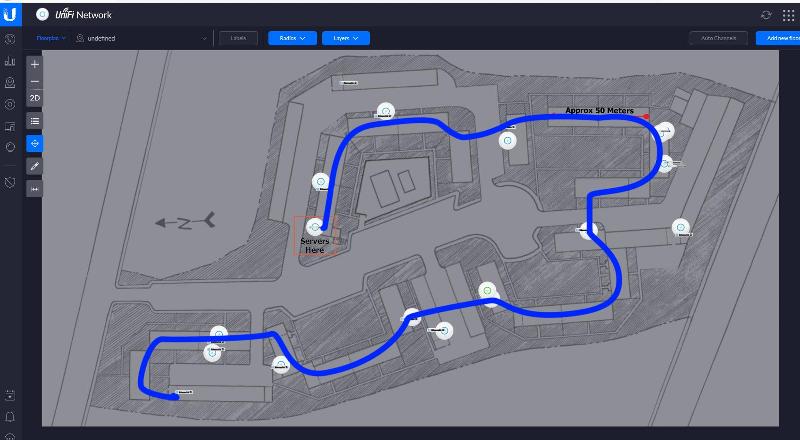 I manage an apartment complex that is about 6 acres in size and currently has CAT6 run pretty much everywhere. I am using Ubiquiti Unifi gear for the entire network. I would like to put in a Fiber trunk to all of the switches distributed thru out the complex.
This Network primarily serves a NVR of mostly 5MP cameras set at pretty high bandwidths each of about 10 to 15Mb each and as you can see (in the attached picture) all the cameras pass through the same switches at the end of the line where the servers are. We also have an ESXi server that connected to cameras on the other end of the run.
My thought is to keep it low budget but possibly get a few Mikrotik SFP+ switches and run fiber everywhere as a main trunk and tie the 10Gb from the Mikrotik switches and then uplink those to the UniFi Switch 8 POE-150Ws at 1Gb. I hope the makes sense so I just want to pass through that location at 10Gb and then uplink each UniFi Switch at 1Gb.
Attached is a map of the complex and basic network layout Blue is where CAT6 is run. This is the same place that I would run Fiber. If the Blue goes past a switch, its connected to that switch. There are a few switches that are not connected directly to the blue but those are further away from the blue so it should be obvious.
The CAT6 is run on roofs and aerially from roof to roof. So the Fiber would need to do the same. So it would need to be Outdoor rated for Sun and water and if it has a messenger wire that wouldn't hurt but I can create my own if needed as long as the sheath is sturdy enough to not wear through or something.
My question is what type of fiber would be a good choice for this purpose.
As far as I could tell Single Mode is my best option But I do need to be able to terminate the fiber myself. I am confident that if I take some time to learn how to properly do this I can but the easiest termination system that gives good results would be what I prefer.
Can you please recommend...
Fiber
Termination ends
SFP+ Fiber Modules that will work for the Mikrotik switch.
SFP 1Gb Modules that will work with Ubiquiti switches
Thanks,
Stuart