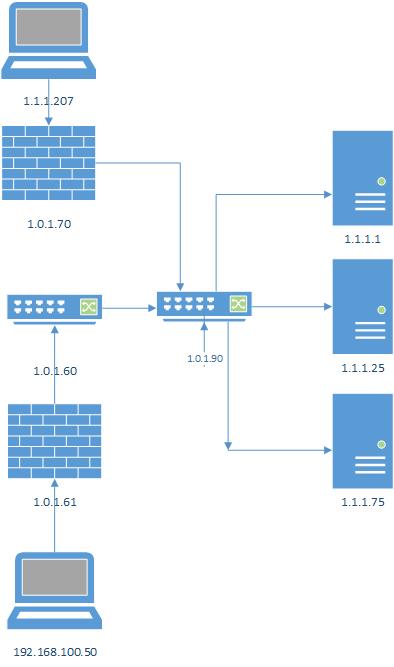 Possible Routing issue.
I am trying to connect to a specific server over a vpn connection.    
I have configured the Firewall to provide an IP address in the 192.168.100.0 range.   When I connect to it I can see the local network.  I can ping and connect to the local servers.  The single server I can not connect to is 1.1.1.1.  I can ping and connect to other servers on the 1.1.1.0/24 subnet without issue.
I ran a tracert from my local computer and I get to 1.0.1.90 then 1.1.1.1.   If I run it from the remote computer over the vpn I get to 1.0.1.90 then nothing.  
I have checked the firewall and there are no rules specific to 1.1.1.1  on it or on 1.0.1.90 which is the default Gateway.  There is a route for the 192.168.100.0/24 on the Gateway
"Route 192.168.100.1 255.255.255.0 1.0.1.61"
I have talked to the vendor who provided the server and they say there is nothing on the server which would block any traffic.  
Any suggestions on what to check next?