Hi,
For some time I've had 2 hosts each with local DAS storage. One is a primary host while the other is a backup (disaster recovery) host. I need to get away from this model and go to an iscsi NAS for storing the VMs so I can take either box down w/o spending hours moving VMs from one to the other.
Right now I use Veeam to replicate failover VMs to the DR box every couple of hours. That works, but wondered if there is something better.
The current network configuration is shown below. The primary host is at 10.0.0.50, the backup is 10.0.0.52, and the Win box I have at 10.0.0.8 (with the iscsi port at 10.0.0.10).
Each host has 2 1gbe ports and 2 10gbe ports. Over the last year I've seen the 10gbe ports go inactive on each host, once at different times. Power resetting the box took care of the issue, and it is a concern since I don't know what the root cause was.
I tried defining the iscsi target in the primary host but wasn't able to get that far with it. I have the ISCSI Software Adapter defined but it shows no targets or devices associated with it. The iscsi target doesn't show up yet under Storage Devices even after a refresh. Does the target have to complete the full initialization after I configured it to be visible? If so, that will take another 5 days. I used all the storage I had on the raid array in Windows.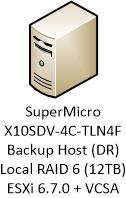 Any suggestions are welcome as to how to go about this.
--Ben