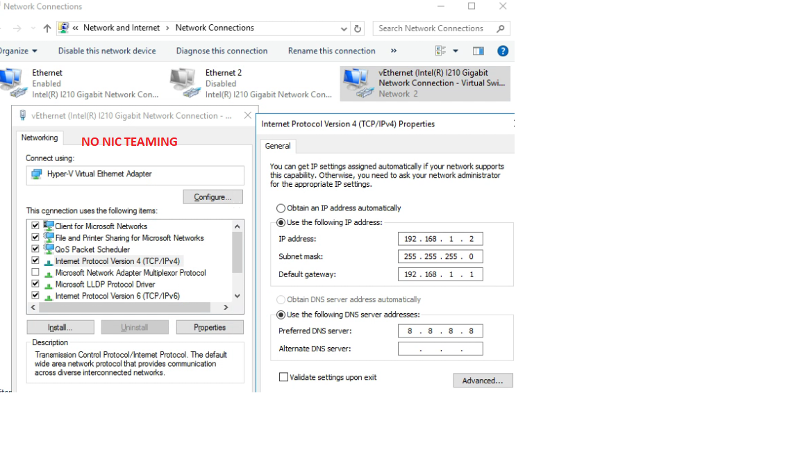 Hi,  
 In the past, whenever I set up a new server that came with 2 network adapter cards, I used to disable one (of two NICs) and assigned static IP address to first NIC (192.168.1.1) and add Hyper-V role which creates virtual network card like "vEthernet Intel ... Virtual Switch" and I use this adapter under Network Settings in Virtual Machines.
 This time I like to be try NIC teaming on this server. I read some articles and watched some youtube videos about NIC teaming. Having said that, there is only one CISCO network switch and there is no plan to purchase 2nd  network switch for the purpose of NIC teaming.  
 On this server, I have not added HyperV role yet because I was not sure whether it would be beneficial and what options I need to choose such as Teaming mode (Static Teaming/Switch Independent /LACP), Load Balancing Mode (Address Hash/Hyper-V Port) and Standby Adapter(None/NIC1/NIC2).  
 There are 12 Windows 10 workstation computers on the network, 1 network switch. There will be two Virtual Machines - Domain Controller and Application Server/SQL server.
 (1) Is it worth creating NIC Teaming even though there is only one network switch?
 (2) If yes, What options do I need to choose in - Teaming mode, Load Balancing Mode and Standby Adapter
 (3) Are there potential pitfalls?
 (4) If I set up virtual machines based on Teamed vEthernet virtual switch and later go back to single NIC method, how easy is it?