Complete new installation of servers and clients.
One single server with Windows Server 2019, containg AD and Exchange server 2019.
Clients are WIn 10 Pro, joined to domain, with Outlook 2019.
Internal domain name is stsgroup.local, to late we realized that a public domain name is best practice theese days. But now we have an internal one...
When Outlook clients are setup for the first time, the following message are shown: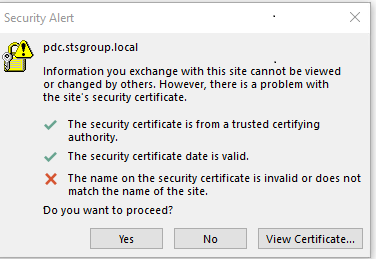 As you can see, they try to use the internal domain name and therefor the warning is issued.
The certificate is a SAN, with autodiscover.domain.com,  webmail.domain.com and mail.domain.com. It is installed on the server.
I have changed all of the URL:s for the virtual dir. to https://webmail.domain.com/...  
Split DNS are configured, so in the internal dns autodiscover.domain.com and webmail.domain.com are pointing to the internal ip of the Exchange server, i.e. 192.168.140.40
The external DNS are pointing to the public IP of the Exchange server.
I have read several posts about this, but it still fails.
Please help.