I have a simple crosstab query in access 2016 which uses a field called WeekEnd as the column heading which is a date field. So each pupil in my list has an attendance rate for end of every week. I have used conditional formatting to highlight in red those pupils whose rate is below 85%.  What I would like to do is format in red if the attendance rate is below the previous value or green if is above the previous value based on the date. Is this possible?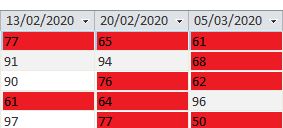 Also noticed that my form does not dynamically update when I add in a new week's data. Its in the crosstab query but does not automatically transfer to the form.
Any help appreciated, many thanks in advance.