Hello,
I have a form with a button on it to open another form based on 1 criteria for OpenArgs.
I need to add another criteria [Trade_No]....its a string. I am not sure if being a string is my problem.
I get a runtime error 3075 (syntax) and the debugger highlights the code in the form that  is opening.  I hover over [Buy_CP] and the value is correct but [Trade_No] is also the same value as [Buy_CP] and that is not accurate.
Below is the error::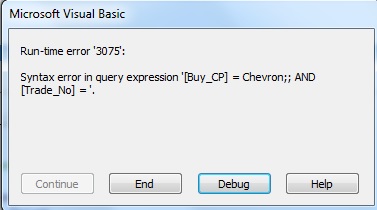 I have the following in the form that has the button:
Private Sub btnIssueLC2_Click()





      DoCmd.OpenForm "frmLetterOfCredit", acFormDS, , , , , Form_subfrmProjects_Extended_List.Buy_CP & ";" & Me.Trade_No & ";"




    




End Sub



In the form that opens:
Private Sub Form_Load()





       If Nz(Me.OpenArgs, "") <> "" Then




       




            Me.Filter = "[Buy_CP] = " & Me.OpenArgs & " AND [Trade_No] = " & Split(Me.OpenArgs, ";")(1)




            Me.FilterOn = True




       




           Else




     




     End If




End Sub 



if I missed something let me know....Thank you