Hi! I'm looking at a crime dataset and I want to create a query that finds the block of each district (there are 22 total) with the highest number of gun-related crimes. I think I have to create a subquery but not really sure how to do this. I tried creating an alias with mycount but that also didn't work.
My most successful attempt is:
gun='%GUN%'
try:
    cursor.execute("SELECT block, count(block) AS MYCOUNT FROM crimes WHERE DESCRIPTION::text LIKE %s GROUP BY block ORDER BY count(block) DESC",[gun])
    rows4=cursor.fetchall()
except:
    db_connection.rollback()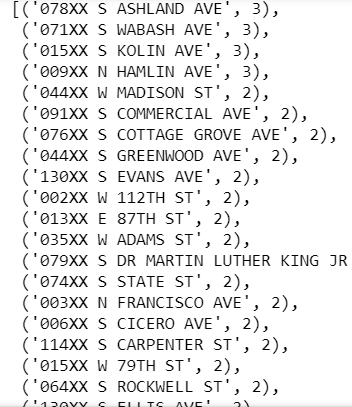 and it creates the attached file. I want to select only the 22 blocks that have the most gun-related crimes in their corresponding district.