Hello, I'm trying to up an Oracle Database for a customer, and i have a few issues with it.
When i'm on a DOS and type "lsnrctl status <service_name>
i got an answer "Instance <name>, status BLOCKED, comport 1 handler(s) for this service..."
Command Success. (Could be not 100% accurate as I trad myself from french)
In a other hand, when i'm trying to connect with SQLPlus on the DB,  i got the following :
"ORA-01033: ORACLE initialization or shutdown in progress"
All services linked to Oracle are running exept OracleRemExecServiceV2.
As my lsnrctl start, stop and status gives answers, I dont know if problem comes from my listener.ora/tnsnames.ora (that was the previous problem I got and think have pass through).
Also SQLDeveloper send back the ORA-01033 error too.
The oracle DB version is 12c 12.1.0.2.0.
OS is Windows Server 2016 64 bits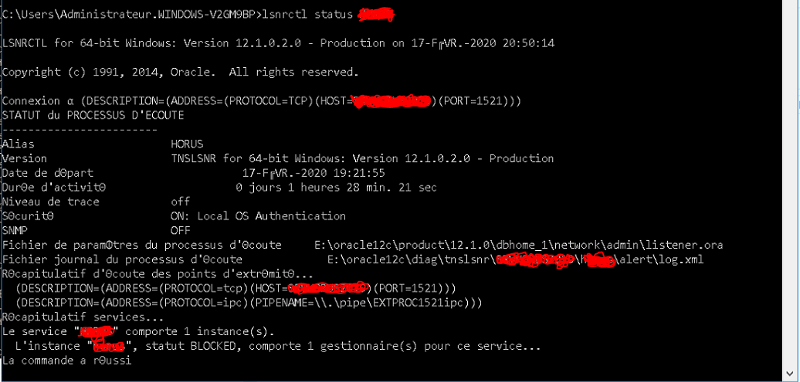 I've tried to shutdown then startup DB, reload services.
The only thing I got is tnsping answer well.
If you need anything more for precision feel free to ask.
Thank by advance if you have an answer, I digged in many sites but no one give a clear answer that applied well for me.