Hello All;
I was adding another VM in ESXi when I lost connection to it.
Looking over at the server, I noticed all the lights were off of the hard drives, except for 1 drive.
Which would be, I THINK, the 2nd drive. I really did not pay much attention to it, once I noticed the other lights were off.
I brought open the Remote Management console and shut down the server, and then booted it back up.
Going into the Adaptec 6805T Config properties, then into Manage Arrays.
The below screenshot is what I am looking at.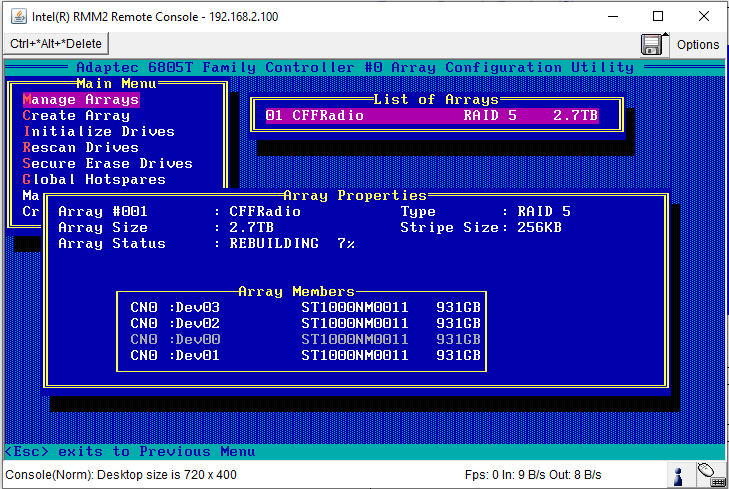 The question(s) I have is as follows.
Q1: The grayed out drive, is this the drive that could potentially be bad?
Q2: They are out of sync in following the regular number pattern. (00,01,02,03)
When I connected the cables to the board. I connected like so.
1 - First (Top first drive)
2 - Second
3 - Third
4 - forth (the bottom drive of the second row, not really sure why I did that for?)
(I removed the cover and checked my cables and they are in fact connected as described above)
The rebuilding % went pretty quickly from 1 to 7, in about 10 minutes.
However, it has been on 7% for about, 10 minutes on its own. Which kind of worries me.
So, it might be that the greyed out drive is in fact bad.
Which in that case, I have two spares, I can replace it with.
I just need some guidance on this one.
Which drive would I remove from the tray and replace it?
And should I shut down the server first, or, keep it on, while it is still rebuilding, and do a hot-swap?
Wayne