I have an Access Database that wants to send information in an Excel spreadsheet.
An extract of the code is as follows, but the code falls over at .Workbooks.Add with the following error.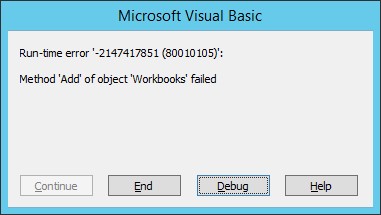 We only get this error in a terminal server environment.  When on a Windows desktop it works fine.
Can anyone tell me what could be going wrong? or advise me how to make the code more robust.
Cheers
'Call OpenEDRTemplate(strFilenam
e, True, strOrderNo)
Set myXL = New Excel.Application
With myXL
    myXL.Visible = True
    .Workbooks.Add "\\sc-addfs-01\dfs\Orders\
Templates\
Error Damage Master Template.xltx"
    .ActiveWorkbook.SaveAs (strFilename)    
    Set myWkb = .ActiveWorkbook
    Set myWks = myWkb.ActiveSheet    
    With myWks
        .Range("dealer_name").Valu
e = strDealer
        .Range("sc_acno").Value = strACNo
        .Range("sc_order_no").Valu
e = strOrderNo
        .Range("customer_name").Va
lue = strCustomer
        .Range("dealer_order_no").
Value = strDealerOrderNo    
        'write room names
        bytItem = 1
        .Range("b19").Select
    End With    
jump1:
    stSelect = "SELECT dbo_tbl131OrderLine.f131in
tLineNumbe
r, dbo_tbl131OrderLine.f131st
rRoom, dbo_tbl103Orders.f103strSC
Order "
    stFrom = "FROM (dbo_tbl103Orders INNER JOIN dbo_tbl130OrderLineBase ON dbo_tbl103Orders.f103intOr
derId = dbo_tbl130OrderLineBase.f1
30intOrder
Id) INNER JOIN dbo_tbl131OrderLine ON dbo_tbl130OrderLineBase.f1
30intOrder
LineBaseId
= dbo_tbl131OrderLine.f131in
tOrderLine
BaseId "
    stWhere = "WHERE (((dbo_tbl131OrderLine.f13
1intLineNu
mber) = " & bytItem & ") And ((dbo_tbl103Orders.f103str
SCOrder) = '" & strOrderNo & "')) ORDER BY dbo_tbl131OrderLine.f131in
tLineNumbe
r;"
    stSQL = stSelect & stFrom & stWhere    
    Set recEDROrder = CurrentDb.OpenRecordset(st
SQL, dbOpenSnapshot, dbSeeChanges)    
    If recEDROrder.RecordCount = 0 Then
        recEDROrder.Close
    Else
        recEDROrder.MoveFirst
        myXL.ActiveCell.Offset(byt
Item).Valu
e = recEDROrder!f131strRoom
        bytItem = bytItem + 1
        recEDROrder.Close
        GoTo jump1
    End If
        Set recEDROrder = Nothing    
    'protect
    myWkb.ActiveSheet.Protect            
    .ActiveWorkbook.Close (True)
    .Quit
End With
    Set myWks = Nothing
    Set myWkb = Nothing
    Set myXL = Nothing