hi
trying to convert normal mail box to shared mailbox in office 365 admin portal. getting an error for 1 particular email account.
same time , tried 5 different account and i was successfully able to convert to shared mailbox, but not this 1 particular email account.
note: there is no sync between AD and office365
have attached a pic of the error.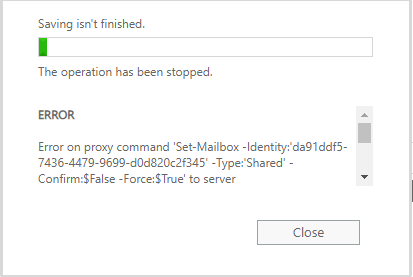 below is the error
Confirm:$False -Force:$True' to server SYBP282MB0185.AUSP282.PROD
.OUTLOOK.C
OM: Server version 15.20.2878.0000, Proxy method PSWS: Request return error with following error message: The remote server returned an error: (500) Internal Server Error.. [Server=SYYP282MB0783,Requ
estId=e21b
4ee1-52a8-
4e6d-a37b-
4270a8d212
e6,TimeSta
mp=4/8/202
0 7:13:15 AM] .