Hello,
I'm trying to:
(1) improve the Hue/Sat/Lum formulas in the attached spreadsheet and
(2) determine what Excel formula(s) will convert numeric HSL color values into numeric values for other color formats.
Explanation of the attached Excel file:
The following screenshot is taken from the attached Color Conversion Chart* which I created some time ago.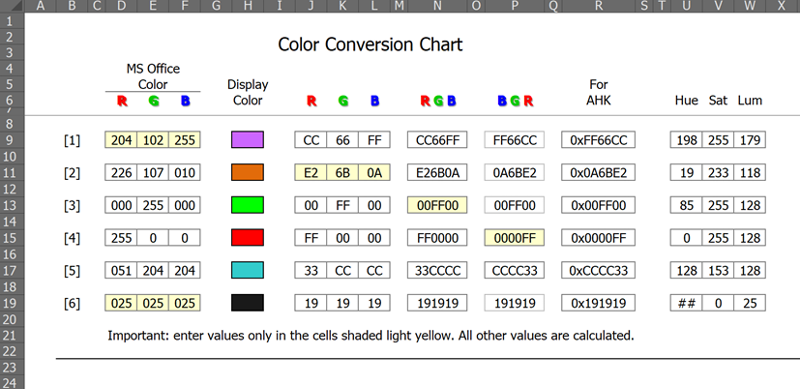 As shown in the image, inserting values for a given color into the yellow cells of a row enables you to see that color (in the Display Color column) and obtain the conversion values for other numeric color formats.
For example, suppose you want to view the appearance and obtain conversion values of a color for which you have 3-digit 000-255 (MS Office) values. In this case, you would enter your values in the three yellow cells in conversion row [1].
Alternatively, if you have three hex values for a certain color, you could enter them in the yellow cells in conversion row [2] to display the color and obtain the conversion values in other formats.
Issues:
#1 Hue/Sat/Lum formulas need tweaking:
Although the Hue/Sat/Lum columns work fairly well in most cases, I sometimes get errors or even negative values — which obviously cannot be right. For example, entering MS Office values of [255][153][255] results in HSL values of [-43][255][204] and, as shown in the screenshot, entering values of [025][025][025] gives HSL results of [#DIV/0!][0][25].
#2 Need formulas to convert from HSL parameters to other formats:
The chart converts
from other formats to HSL
fairly well but I could use some help finding the formulas to convert
from HSL to other formats
.
By the way, The Color Conversion Chart is in the first tab of the attached file, but there are several other sheet tabs which I was initially going to delete before uploading the file. However, although they contain quite a bit of junk, much of the math and formula breakdowns are in those additional tabs so they may or may not be helpful/of interest.
Thanks
*There are many websites which will display a particular color and conversion values. However, the value of this color conversion chart is that you can copy & paste one of the conversion rows into multiple rows below and simultaneously see and compare as many different colors as you want.
Attached file:
Color-Conversion-Chart-2020-04-12_u.xlsm