Hi Experts,
I'm using the Employees table from the Northwind Traders sample database.
I'm only using these columns.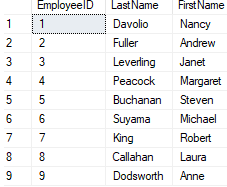 If I use this query
SELECT [name] AS ColNames 




FROM syscolumns 




WHERE id=OBJECT_ID('Employees')




AND [colid] < 4




ORDER BY [colid]



I get the column names

If I use the STRING_AGG function query, i get this string:
SELECT '(' + STRING_AGG([EmployeeID], ',') + '),' 




     + '(' + STRING_AGG([LastName], ',') + '),'




     + '(' + STRING_AGG([FirstName], ',') + ')' AS [StringCol]




FROM [Northwind].[dbo].[Employees]




What's an elegant way to get this result ?
I want to add the column name to the beginning of each part of the string like on this mockup image.
One way i was thinking, is before i even use the the STRING_AGG, in a select statement select all columns and add the column name to row 1 of each column,  
Then once I added the column name to row 1 of every column than i could use STRING_AGG. But not sure if that is a good approach.  

stringcolumns.PNG