I have a Domain Controller, File server, SQL server and Remote desktop server.  All are VMs running Windows Server 2016.
There are around 30 users connecting to the RDS using thin clients. Users are split across 3 sites with 20  at site 1, 5 at site 2 and 5 at site 3.
Sites are connected with site to site VPN tunnels on the Fortigate routers
Currently we have printers installed locally on the RDS and user groups setup for site1, site 2 and site 3.  In the security settings of the printers, we removed everyone and assigned the relevant group. This allowed us to limit the users to only see the printers at the site they belonged to.  This was fine until we recently added more printers at each site.  Now we want to restrict access at a lower level e.g. at site 1, only some users can print to the new copier.
Here is what we have done:
Added the print management role to FPS1 and added the new printer for site 1 called NY-Counter-CashSale.
Created a security group in AD called NY-Counter-CashSale users and added 1 user
Created a Group policy object and linked it in the local domain called NY-Counter-CashSale printer deployment policy
In GPO scope, removed authenticated users, added NY-Coutner-CashSale Users and Domain Computers
On FPS, selected the printer in Print Management console and chose Deploy with group policy
Chose the GPO NY-Counter-CashSale printer deployment policy and Per User connection type
This told me that the printer had been deployed successfully and when I log the user into the RDS I now see a new printer added BUT it is called Ricoh P502 and not NY-Counter-CashSale.  Furthermore, it seems to add an additional instance of the printer each time I logon (see pic)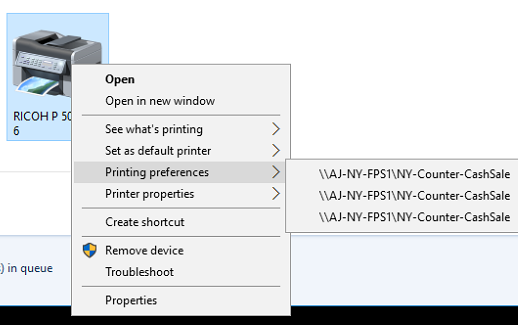 Can anyone shed any light on why this is happening?