The MacBook Pro was just updated from High Sierra to Catalina yesterday.
Every so often, when starting an application, we get a gray screen with the words "No Available Windows"
Press the esc key will get this window to disappear, and get the MacBook Pro working again
If we click on the application a second time, it usually will open normally.
The problem seems intermittent.
I assume that it is related to the operating system upgrade.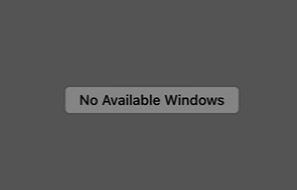 I have used the 'Mac OS X Cocktail' utility to clear caches. But this message still appears
Thanks.
MacBook-Pro-Specs-for-KC.png