So I have two queries, exactly the same columns plus a custom column that I use to tell what office the data belongs to.
I am downloading sharepoint data from each office and the downloads are working. But when I try to append Denver data to the DAL data I get this.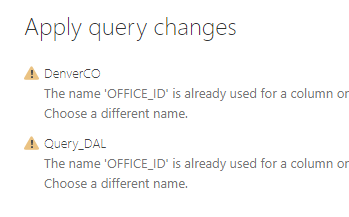 That column is a custom column that has a number in it to identify where the data is from. The custom columns are exactly the same except for the value. Denver is 1 and DAL is 2.
Do I have to append to a new record set? From what I have read I did not think I needed to. I want to use the DAL table to be the main because all the graphs and such are built off of it and I did now want to have to reconnect them all to a new table.
Any suggestions?
Thanks!!!!
Jim