Per suggestion from "
Alex [***Alex140181***]
" I am attempting using a powershell script to automate an FTP download.
This is to download files, regularly which may update throughout the day, but which will always have the following naming convention "YYMMDD.asc"
I attempted to run using the sample at the link provided,
https://www.thomasmaurer.ch/2010/11/powershell-ftp-upload-and-download/
but I am afraid I am just too new to this to see what I am doing wrong...I receive a "You cannot call a method on a null-valued expression. At D:\[..].ps1.23 char:1 +$LocalFileFile.Write($ReadBuffer,0,$ReadLength)
and $ResponseStream.Read($ReadBuffer0,1024)
"See attached Image"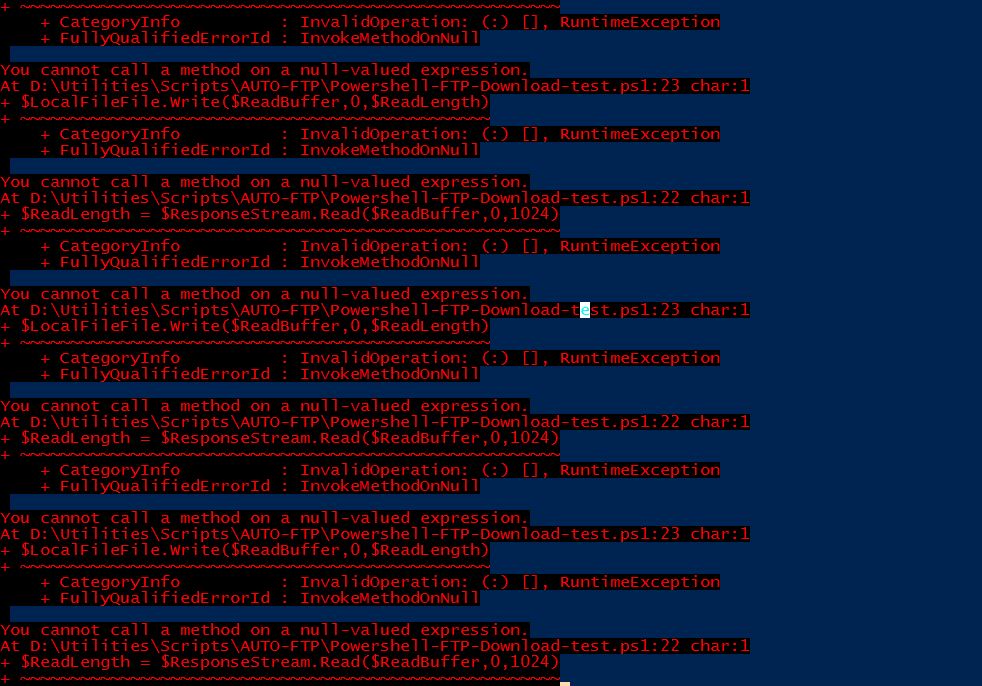 Script is below
# Config
$Username = "<username>"
$Password = "<password>"
$LocalFile = "<Local path>\@Y@M@D.asc"
$RemoteFile = "<ftp site>/filename.asc"
# Create a FTPWebRequest
$FTPRequest = [System.Net.FtpWebRequest]::Create($RemoteFile)
$FTPRequest.Credentials = New-Object System.Net.NetworkCredential($Username,$Password)
$FTPRequest.Method = [System.Net.WebRequestMethods+Ftp]::DownloadFile
$FTPRequest.UseBinary = $true
$FTPRequest.KeepAlive = $false
# Send the ftp request
$FTPResponse = $FTPRequest.GetResponse()
# Get a download stream from the server response
$ResponseStream = $FTPResponse.GetResponseStream()
# Create the target file on the local system and the download buffer
$LocalFileFile = New-Object IO.FileStream ($LocalFile,[IO.FileMode]::Create)
[byte[]]$ReadBuffer = New-Object byte[] 1024
# Loop through the download
do {
$ReadLength = $ResponseStream.Read($ReadBuffer,0,1024)
$LocalFileFile.Write($ReadBuffer,0,$ReadLength)
}
while ($ReadLength -ne 0)