Hi,
Have 16Gb of Ram. What are the best values for Virtual Memory on Win 10: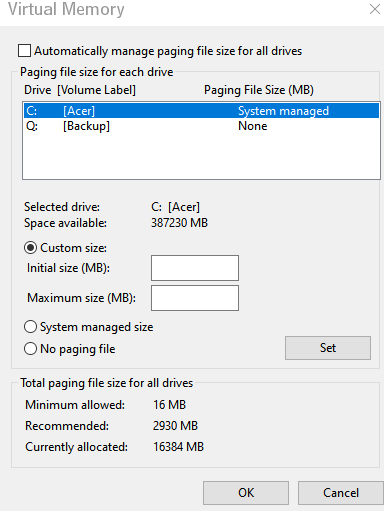 Seen a RANGE of suggestions online.
Most common Google result is this:
How to calculate Windows 10 Virtual Memory / Paging File
There is a formula for calculating the correct pagefile size. The Initial size is one and a half (1.5) x the amount of total system memory. The Maximum size is three (3) x the initial size. So let's say you have 4 GB (1 GB = 1,024 MB x 4 = 4,096 MB) of memory. The initial size would be 1.5 x 4,096 = 6,144 MB and the maximum size would be 3 x 6,144 = 18,432 MB.
Do you agree? If yes, just to help me check my math - what would be the values I would input?
Initial Size:
Maximum:
And, anything ELSE I should be selectin at that dialogue box?
Sincerely,
OT