Hello, so I have this totally unusual problem with Outlook 365 latest (64 bit) on a customer PC (Windows 10 Pro 20H2). I've dealt with hundreds of Outlook problems and this is baffling.
If I used the current profile, I'd get the same error on any configured email account (from totally different providers, both POP and IMAP):
error 0x80040154, general error
This happens with incoming and outgoing email and it's instantaneous, I reckon there's not even a real try to reach the servers.
I've tried many things:
removing all profiles, starting with a totally new one. When I create a new profile, Outlook gives the same 80040154 error, but then it creates the profile (without the usual request to create an account).
I can't add accounts to the new profile though. If I try from the control panel, nothing happens when I click to open the list of accounts. If I try from Outlook, I get an error saying the operation is "Not implemented".
Whenever I start Outlook, I get this error, even with the new, supposedly clean, profile (it's Italian, it says there's a script error, interface not registered):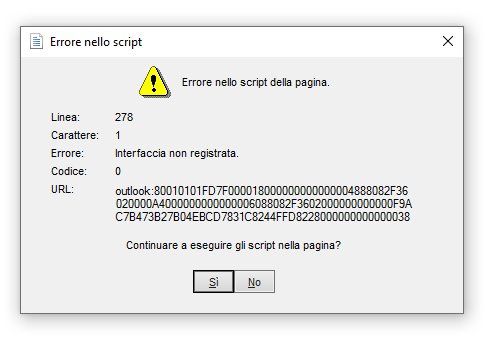 I've tried repairing Office, same problems.
I've tried uninstalling Office cleanly using Microsoft's utility and reinstalling, again same problem.
I've tried a specific Outlook fixing utility from Microsoft, it did basically nothing.
I've tried registering inetcomm.dll as suggested online, I get this: "
the DllRegister Server entry point was not found.
Check your dll etc etc"
The dll is where it should be inside the system32 folder.
I'm a total loss here. Any suggestions?