Ok, so I'm making a Game in Power Point. The problem is that I made a gameplay loop where as the player makes choices and moves foward via slides, but some of these slides can be re-used to use less of them.
How the game works/Is structured: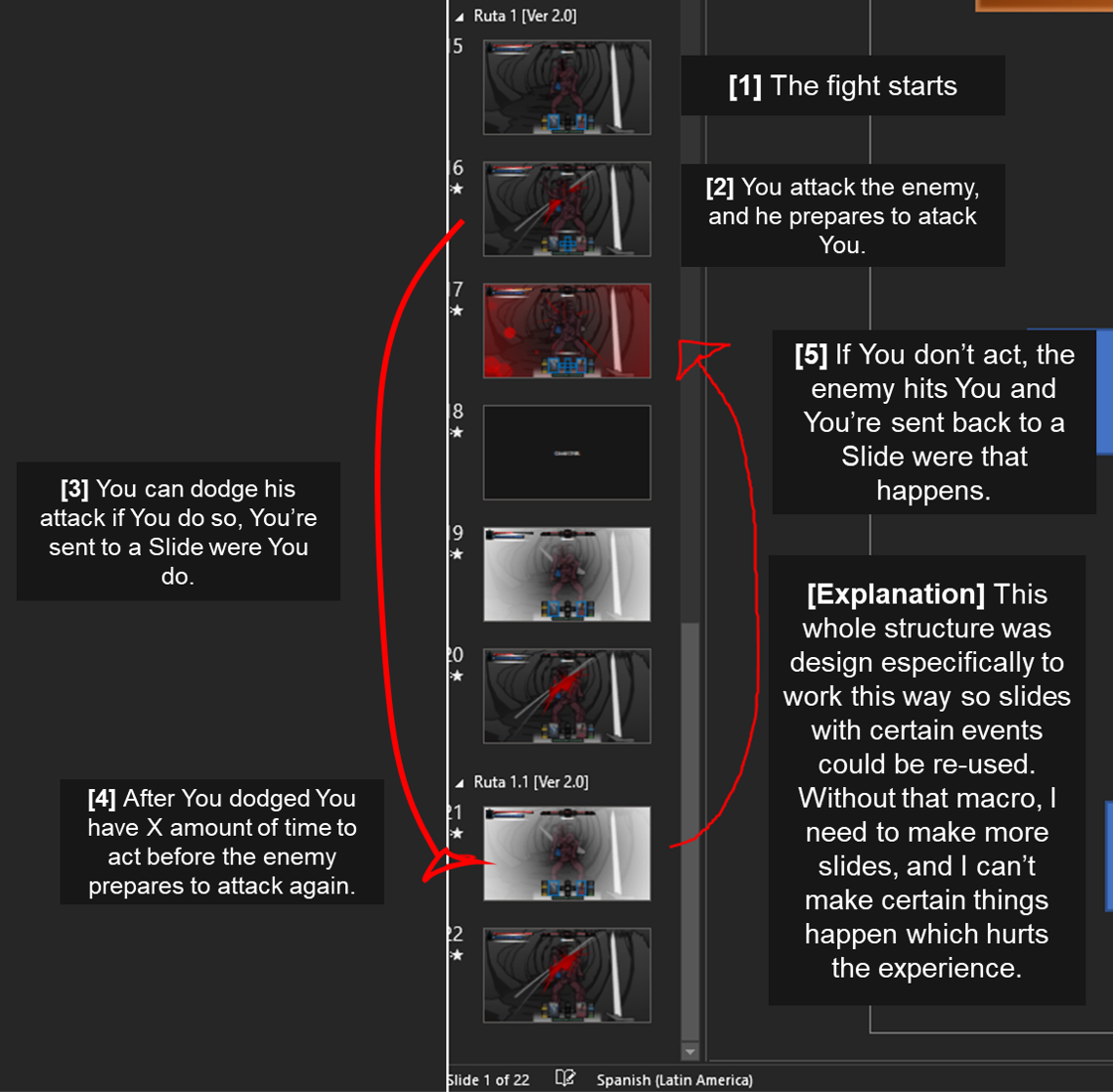 The problem is that time/timing is essential to the game's core, and I can't use the Advance Slides Feature because I need the player to go back to a previous Slide after X amount of time. In fact I don't know why Microsoft didn't implemented this feature before themselves....
Photo of the feature that I'm trying to create/implement into my game:

So to send the player to X Slide after Y amount of time I've tried using functions that "Wait" before executing a macro such as:
---
waitTime = 3  




  




   Start = Timer    




   While Timer < Start + waitTime        




      DoEvents    





Wend



---
Function Wait(Seconds As Double) As Boolean   




    Static StartTime As Double    If StartTime = 0 Then StartTime = Timer   




    If Timer - StartTime >= Seconds Then       




        Wait = True        StartTime = 0       




    End If   




End Function



The problem with these functions is that they literally pause the whole Power Point Presentation(I want Animations to keep playing while the macro does it's job.), and since I'm making a Power Point Game, I don't want it to do that because it messes with the experience and the flow of the Game.
So is there a way to make a Macro or a Function that only tracks time without pausing the animations in PPT, and after X amount of time executes code? Or perhaps fusing functions and macros into one so it can ease my work?
Something like this:
Sub GameLoop() 




SlideShowWindows(1).View.GotoSlide (X) Waitfor 3




If SlideShowWindows(1).View.CurrentShowPosition = X Then




SlideShowWindows(1).View.GotoSlide (Y) 




Else




End If




End Sub



By the way I found useful information in the matter, although I'm not sure on how to implement those to my own functions or macros, its complicated. I will leave reference links:
https://stegriff.co.uk/upblog/non-blocking-wait-or-sleep-in-office-vba/
https://social.msdn.microsoft.com/Forums/en-US/9f6891f2-d0c4-47a6-b63f-48405aae4022/powerpoint-run-macro-on-timer?forum=isvvba
Thanks in advance!