I am trying to create a lab with a the virtual machines show in the drawing below. I want traffic to pass from WS-1 -> ASA-1-> vpn-tunnel -> ASA-2 -> Palo Alto -> WS-2.
I've added a diagram.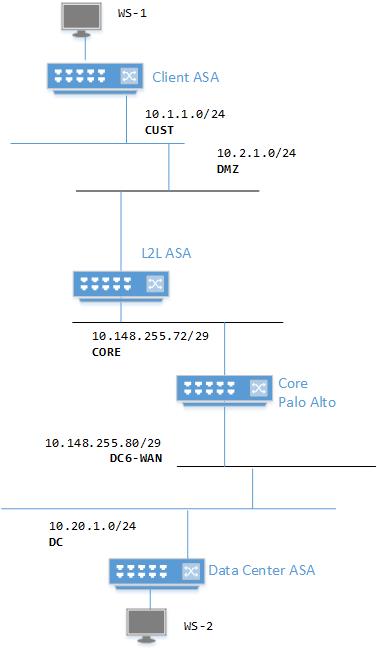 What I want to be able to do is ssh / http / ping from the workstation at the top of the page to the workstation at the bottom of the page. I have created virtual switches, created the VPNs and configured BGP. The Palo Alto and the ASAs are exchanging routes. Each workstation has the attached ASA as it's default gateway.
I am new to Palo Alto and the first problem I am encountering is actually setting up rules, polices, zones, etc. I think the rules are set up properly. However, the first thing I noticed when trying to ping from the top (WS1) to the bottom (WS2) is that WS1 ARPs for its gateway were hitting WS2. THAT makes me think what I am trying to do isn't possble.
Can anyone say this will or will not work without some sort of external routing or another VM that actually routes like pfsense?
Thanks,
Steve