I ran CORREL in Excel, and the results matched expectations ===> minus -.640, which makes perfect sense for my data. I was also able to replicate this number from an earlier analysis, but I had to reconstitute the dataset. In the earlier analysis, they used SPSS and got .628 correlation, so I believe my Excel analysis got the same result. (I'm sure that .628 was also minus -0.628 based on the data and reality).
Next I ran a PEARSON correlation in Excel, and also got minus -0.640, same as CORREL. So again, good I thought ...
But then I got some additional stats based on
this video
, and the p-value calculation went wacky (#NUM). So I'm not sure what's going on. Also, the T statistic is way higher than the example.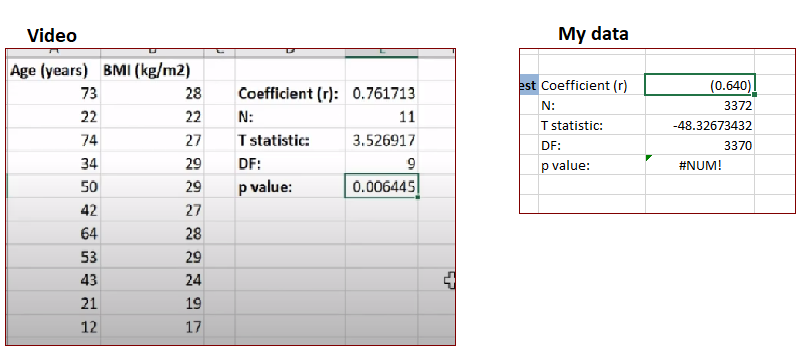 Formulas:

So trying to sort this out ...
- is the T statistic wacky?
- why didn't p value calculate?