Hey Experts.  Windows 2016 print server with 150+ Windows 10 Enterprise pc's and 60 HP network printers all in an AD environment.  Yesterday, no problems when users would print documents or pdf's but today, when they print, they are encountering this box: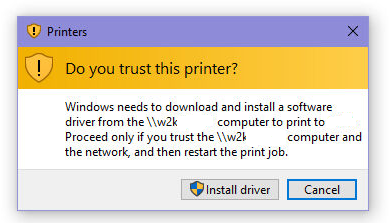 I thought it was just one printer so I updated the drivers but then more tickets came in and as they were escalated, I knew it was more widespread.  Selecting the "install driver" option gives the impression that it's doing something but the box quickly comes back up.  
By default, users get their printers mapped via a login script and group membership.  Users have no admin rights on the local pc.
Nothing,
that I am aware of, changed overnight as I didn't push updates, no changes to GPO's or any sort of print server change.  Something obviously caused this to start popping up and after restarting the print server and the desktops, and updating the print driver for the M506 which was the model of the initial ticket, I'm no closer to a cause or solution.
Any help would be greatly appreciated!