Hi,
I've a list in C# with below two columns i.e. Department and User (as per below snap shot)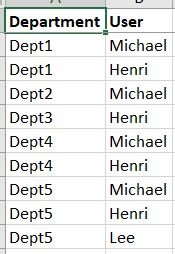 I would like to create new list along with group number and result should be like as below snap shot.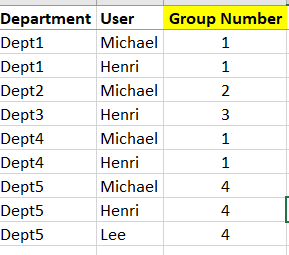 Please note, in case users are associated with other departments & count; then consider in one group. For example, aforementioned "Group Number" snap shot (yellow background). The "Dept1" and "Dept4" should get "1" group number.
But, "Dept5" should get "4" group number as user "Lee" is added into it.
Apart, above snap shots are just example; I may have about 50 departments and about 100 users (associated with 50 departments)
Could you assist into it?
Best Regards,
Mohit Pandit