In VBA I am Generating a Dynamic Query based on criteria entered on a form.  When using the AND the query adds the 2nd field to the 2nd column and it works OK. 
Example: If [Combo508] <> " " Then
    where = where & "(([PeriodFrom1] >= """ & [Combo508] & """))"
   Endif
If [Combo510] <> " " Then
     where = where & " and (([PeriodTo1] <= """ & [Combo557] & """))"
 End If
This works OK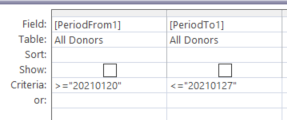 This does not work using 2nd statement as OR: