This is outlook 2019, and for some reason any kind of file you attach in Outlook puts itself in the body of the email as picture for some reason. My PC and the other PC have Windows 10 Enterprise.
This is happening from 1 PC. If I send an email including a Word file to myself it shows up in my email as you see below. Sending from the PC the file is a Word file, and has the Word extension, but for some reason comes in as the picture.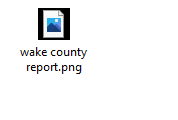 I've re setup Office and still does the same. I'll try to uninstall/reinstall Office, but wanted to ask if anyone has ever experienced this before?
I've never seen this before.