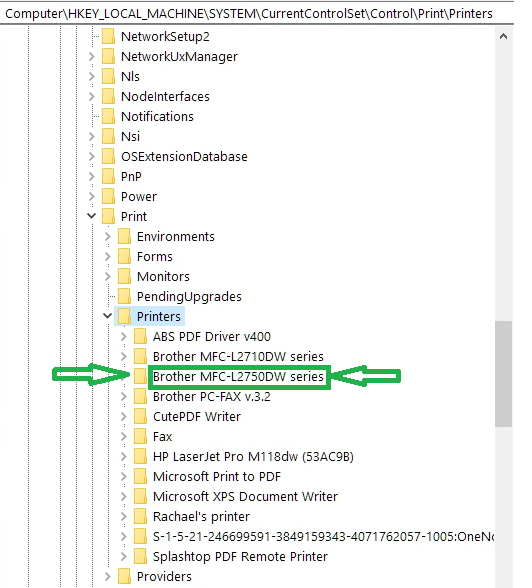 Hi,
 I have a strange situation on this Windows 10 Computer.
 It has Brother MFC-L2750DW printer connected to the computer via USB cable.
 It prints and scans fine from the computer.
 They use the business software called "CCC". In that software, the user can scan documents directly from the Brother MFC-L2750DW. I posted the screenshot of Printer List in CCC program.
 The strange thing is that in the CCC program, when viewing "Select Device" window, there are multiple brother MFC-L2750DW printers to choose from where there is only one device for MFC-L2750DW in Devices and Printers.
 Obvisouly CCC program draws the list of printer informtion from somewhere else.
 I checked the Windows Registry (please see the screenshot) and the printers listed there in the registry is consistent with what I see in Devices and Printers.
 So the question is where does CCC go to find hese multiple MFC-L2750DW  printers?
 One more information to share. Last week, I removed old MFC-L2750DW printer from Devices and Printers on this computer and reinstalled the drive for MFC-L2750DW from the scratch using USB cable.
 So even if old printer name has been removed by me, Windows must be keeping that information somewhere not seen in naked eyes.