We are in the process of migrating exchange 2010 to 365 in a Hybrid environment.
We have the following scenarios
- On-Prem Outlook 2010 with a connector to cluster5out.eu.messagelabs.com
- Exchange 365 with the correct remote domains "mail.company.com"
We have tried to set up "centralized mail transport" and have struggled to connect to the on-premise with the following error.
450 4.4.316 Connection refused [Message=Socket error code 10061] [LastAttemptedServerName=mail.matortho.com] [LastAttemptedIP=217.144.149.180:25] [CWLGBR01FT038.eop-gbr01.prod.protection.outlook.com] 
Our understanding is that port 25 is not set up correctly on our FortiGate 100D
We have added the following inbound and outbound IPv4 Policy's
Microsoft-Outlook has a Total IP's of 9055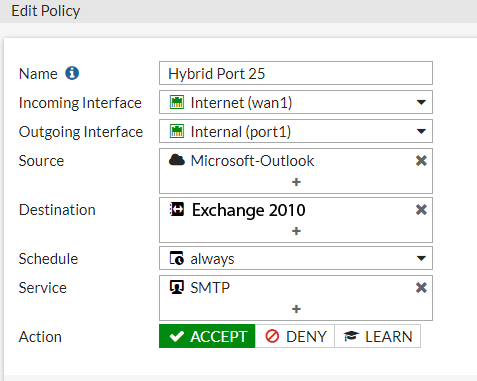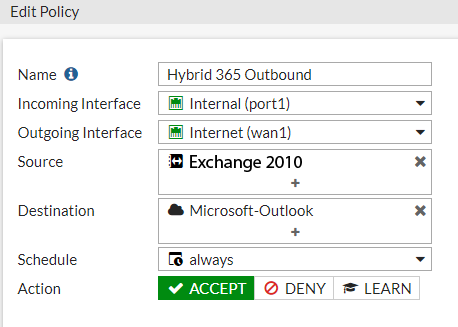 We have unsuccessfully created the "centralized mail transport".
We have 2 options continue down the path of trying to find the solution to the 450 4.4.316 Connection refused
or
We look to configure the 365 Connectors to Symantec message lab.
Symantec Message Lab is our prefered configuration once the migration project has been completed.
Help on both options would be very much appreciated
Best Regards
Simon