This is using MS Exchange Server 2016. This exchange server is hosting few email domains, such as, abc.com, def.com, and ghi.com. A user has her ms outlook setup with shirley@abc.com, shirleym@def.com, and shirley.mun@ghi.com was greeted with the following cert warning,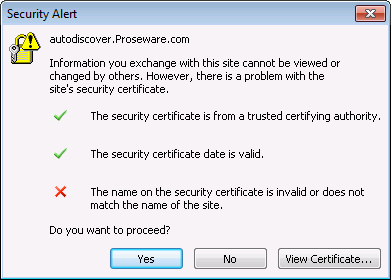 Note: the autodiscover is autodiscover.def.com
We pressed the "view Certificate...", both the CA and exchange certs are valid, not exclamation mark. As for the "mx" and "autodiscover" hosts, all these already listed in the certificate. 
In MS outlook, we found that when highlighting "shirleym@def.com", a "disconnect from exchange" was found on the task bar. Other 2 is without problem.
What is missing from the settings? and how to solve the problem?
Thanks,