Hi.
I am using Microsoft Access  .........  1 user  .........  continuous form
My form has 15 fields.  There are 3 fields that must have a certain relationship for the record to be correct. 
I have been using the "AfterUpdate" event for the datafields to call on a sub that reads and analyzes all the fields in the current record.  Then, this sub needs to set some flags like [Record is OK]  etc        (in the same record).
Often I get the following error.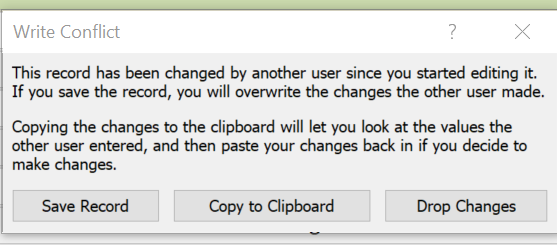 So, this isn't working well.   "Me.dirty = false" and variations of record save commands have given me no joy.
I would appreciate your advice on how to make changes to the same record that the form.current record is on.  Is there a better approach?
Thank you.