I have a checklistbox in my windows form.  I am querying data from database into sqldatareader.  How do I check the checklistbox if the value is a string concatenated by comma.
Example, my data is as below.
Apple, Orange, Banana
I would like it to check the following: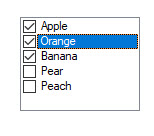 The below code only add the list to my checklistbox instead of checking the boxes like the above.
Dim dr As SqlDataReader




   Dim strQuery As String = "SELECT NAME WHERE ID = '" & strID & "'"





        Dim myCon As New SqlConnection(strCon)




        Dim myCom As New SqlCommand(strQuery, myCon)




        myCom.CommandTimeout = 500




        myCon.Open()





        dr = myCom.ExecuteReader(CommandBehavior.CloseConnection)





        While dr.Read




            If drProject.HasRows Then




                chklstFruit.BeginUpdate()




                chklstFruit.Items.Add(dr.Item("NAME"))




                chklstFruit.EndUpdate()




            End If




        End While