1. Technique 1 - Hide icon
Right-click on an empty spot on the taskbar and then click
Properties
(or open
Control Panel
and run the
Taskbar and Start Menu
applet)
The
Taskbar
tab should already be selected, but if not, click it.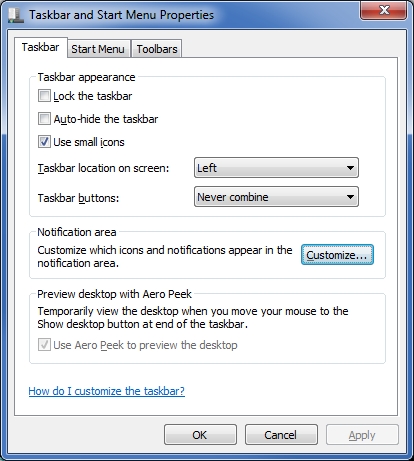 2. Change icon behavior from Show to Hide
Click the
Customize...
button.
Find the
GWX
entry in the list.
Click the drop-down arrow and change the behavior from
Show icon and notifications
to
Hide icon and notifications
.
Click
OK
.
Note: This approach works only if the check-box "Always show all icons and notifications on the taskbar" is un-ticked.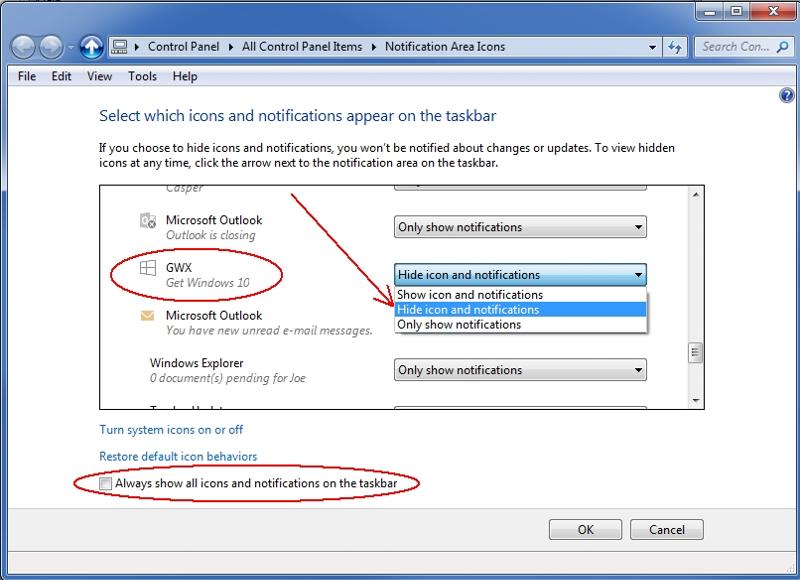 3. Technique 2 - Uninstall Windows update KB3035583
KB3035583
is the update that installs the
Get Windows 10
app, which is what causes the icon to appear in the notification area. Uninstall that update with these steps:
Control Panel
Programs and Features
View installed updates
Find KB3035583 in the list and select it
Click
Uninstall
and then
Yes
on the "Are you sure..." dialog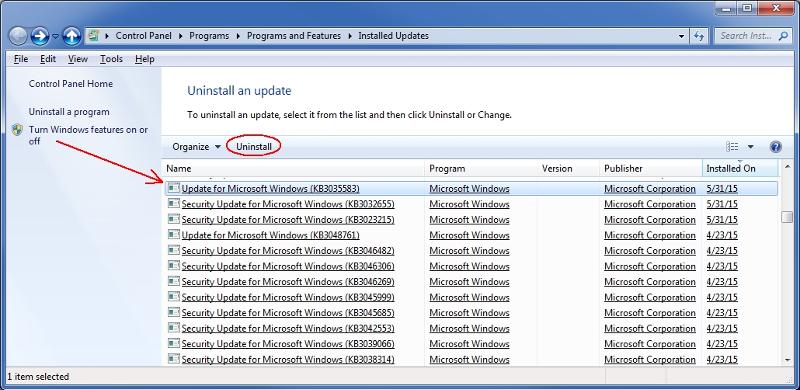 4. Hide Windows update KB3035583
Because you have uninstalled KB3035583, when you do Windows Updates in the future, it will come back. When you see it in the list of updates, right-click it and select
Hide update
.

5. Technique 3 - Disable tasks in Task Scheduler
Run the Task Scheduler:
All Programs
Accessories
System Tools
Task Scheduler
Find the
gwx
folder:
Task Scheduler Library
Microsoft
Windows
Setup
gwx
Right-click each task (there may be two or four) and click
Disable
.
Some users report that this works, while others say that the
refreshgwxconfig-b
task in the
GWXTriggers
causes the icon to come back.

6. Technique 4 - Change the registry
The only technique with no reports of failure is to modify the registry. I hope you join me for
Part 2
in this series to learn about that.
If you find this video to be helpful, please click the
thumbs-up
icon below. Thank you for watching!