1. Download and install the trial software
Visit the Nuance website at:
http://www.nuance.com/for-business/document-imaging-and-scanning/power-pdf-converter/index.htm
Click the
free trial link
, which takes you here:
http://www.nuance.com/for-business/imaging-solutions/document-conversion/power-pdf-converter/free-trial/index.htm
Fill out the short form and submit it.
Download the trial software and install it.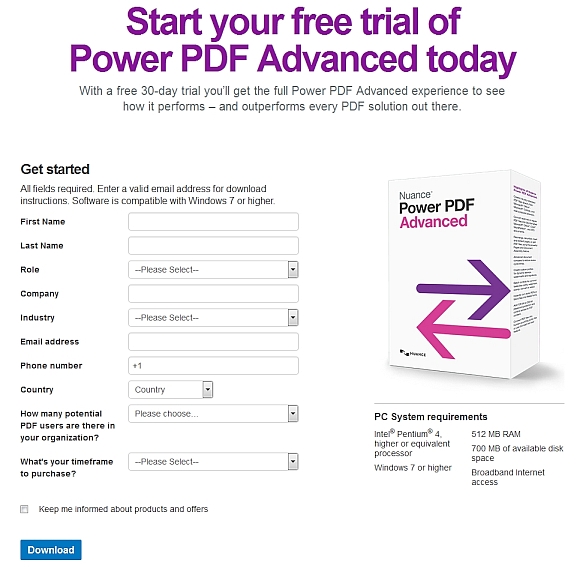 2. Run the program and invoke the Watched Folder feature
Run the program by clicking Start>All Programs>Nuance Power PDF Advanced>Power PDF Advanced.
Invoke the Watched Folder feature by clicking the
Advanced Processing
menu, then the drop-down on the
Batch Controls
ribbon button, then
Watched Folder
.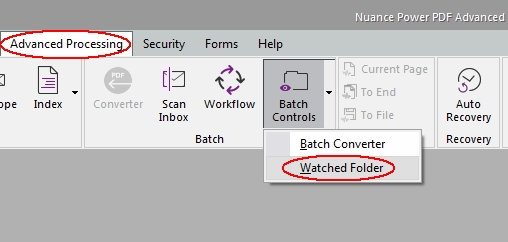 3. Configure the Watched Folder settings
Tick the
Enable Watched Folder
box.
Click the
Source
button and Browse to the folder that you want as the Watched Folder.
Tick the
Include Subfolders
box if you want them.
Click the
Destination
button and Browse to the folder where you want to store the converted PDFs.
Click the
File Type
drop-down and select
Searcheable PDF
(Nuance's spelling, not mine).
Fill in whatever other options you want, especially what to do with the finished source files.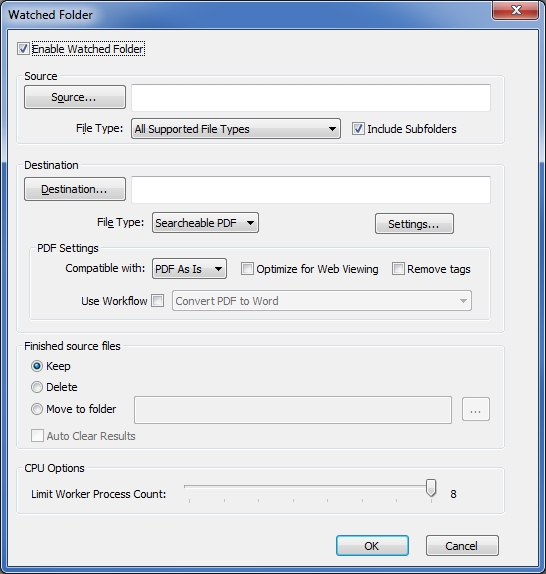 4. Test the process
Copy one or more image-only PDFs into the Watched Folder.
After a short wait, check the Destination Folder to view the searchable PDFs that have been created.
Check the
Source
folder and the
Move to folder
specified in the
Finished source files
settings to make sure that the source files were handled correctly.

That's it - you're done! If you find this video to be helpful, please click the
thumbs-up
icon below. Thank you for watching, Joe