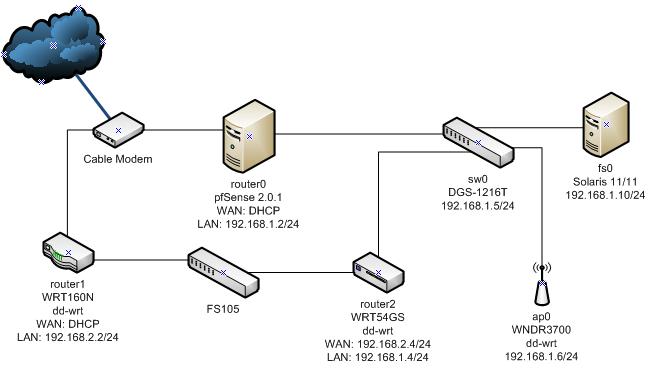 Hello all. Thanks in advance for your time.
I am having issues connecting my two internal networks.
A little detail about the above image:
router0 and router1 have separate WAN. The need for two networks is so that when I tinker with things I won't affect other users in the house.
router0 runs pfsense with a gateway 192.168.2.4 specified on the LAN interface and a static route to 192.168.2.0/24 with 192.168.2.4 as its gateway.
router1 runs dd-wrt with a static route to 192.168.1.0/24 with a gateway of 192.168.2.4.
router2 runs dd-wrt with no static routes specified, gateway provided by DHCP/static lease. It is configured in router mode with nat, dhcp, spi, dnsmasq, etc. disabled. I am unsure if I should manually configure the WAN interface without specifying a gateway.
There is also another router (ap0) that acts as an access point and has no WAN connection.
I had an entry in iptables for router2 to accept/forward all packets but I ran into problems with competing DHCP servers. So I removed that entry. It also didn't seem to change the problem.
I have a solaris box (fs0) running samba that needs to be accessed by all - it resides on 192.168.1.0/24. Naturally, all computers from that subnet have no trouble connecting. When attempting to connect to the server from windows machines on 192.168.2.0/24 all attempts fail. I am also unable to connect to www or proxy running on the same server. After I ping into 192.168.1.0, the client is then able to access the share, www, and proxy. But nothing seems to connect until I ping.
I can ping and traceroute into 192.168.1.0 from 192.168.2.0 but am unable to ping or traceroute into 192.168.2.0 from 192.168.1.0. However, on the solaris box I am able to ping and traceroute into 192.168.2.0 without any problems. There is no static route specified on this box. It follows the route from router0 just fine.
I don't know if it will help or not but when I took the WAN if down on router0 (pfsense) I noticed what appeared to be dropped packets/connections coming from the internal network but showing they were on the WAN interface. Also, when I traceroute out to the internet I see hops with internal IP address on the same /8 as me but not the same /24 if it makes any difference.
Any thoughts on what I may be doing wrong? Any guidance or advice is most appreciated.
TIA