I have at least a couple of computers that are displaying a message a login:

Now, the message by itself isn't so concerning (because nothing seems to happen a month after the stated date) but what it may mean indirectly could be more of a problem.  Somewhere I read that this is associated with the Windows Insider Program.  So I've found this seems to be the case and am trying to get the computer out of this state.
Initially I would expect to use local gpedit on these workstations to set this up in the first place.  
In a couple of cases, I went to open gpedit and get this: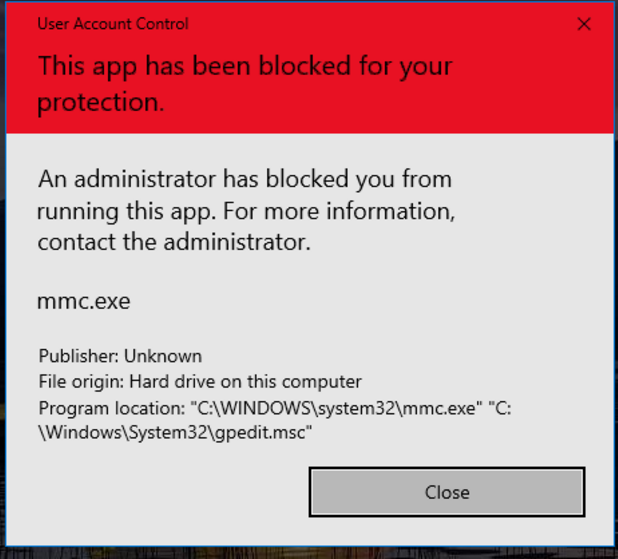 And, in fact, this message seems to appear for a lot of things I need to access.  (In most cases I'm logged in to a local account in the administrators group).
If I follow the instructions at
https://insider.windows.com/en-us/how-to-pc/#not-receiving-updates
, I end up at Settings / Update and Security / Windows Insider Program and find everything there is grayed out: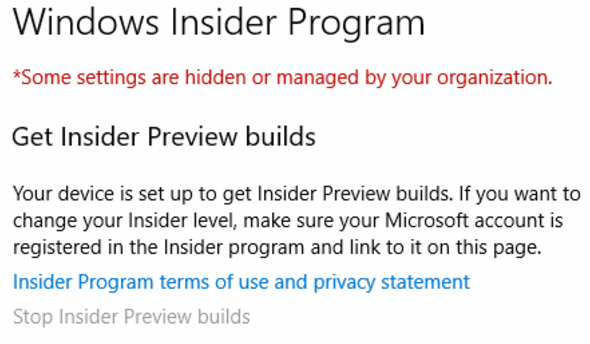 So I'd like to understand how this came about and how to fix it.
The tech who set up these computers
appears to have ENABLED "Manage preview builds in the Windows Update for Business section of Windows Update in
Local Group Policy Editor / Computer Configuration / Administrative Templates / Windows Components.
by mistake - which started all this.
On one computer we were able to set "Manage preview builds" to "Not Configured" but the expiration notice continues.  
Then I change it to "Disabled" and it appears that nothing changed with that either.
Nonetheless, the 2nd message above is the most disruptive as I'm not able to set up workstations with this happening in order to accommodate instrumentation, etc.
So, this condition is the most urgent to figure out how to fix.