This article is about Outlook email for the individual: How to set it up and tips for using it. The article has been written for Outlook 2010 and Outlook 2013. Some ideas can be ported back to earlier versions.
Outlook is an email client that comes bundled with Microsoft Office and is used extensively by businesses that use an Exchange environment for email. Exchange offers a lot of capability that business users need and use, often more capability than we individuals really need. Outlook is also used extensively by individuals because they use Office, because Outlook is normally bundled in with Office, and so it makes sense for a lot of individuals to use Outlook in this way. Certainly, I have been doing this for many years.
There are several different email applications that are readily available. Why, then, would we use Outlook? From my perspective, Outlook is an integral part of the Office package, it works very well, and it is a highly polished, capable application. It is designed in the same way as the other Office tools and knowledge in one Office application is easily transferred to another Office application. For example, most users that I run across are unaware that Outlook uses Word as its editor and so spell check, grammar check and other Word features are built right into Outlook. I find this feature very useful indeed. I have been using Office since version 4.3 for Windows 3.1 and Outlook since version 97 for Windows 98 and Windows NT4. I have used all the Office versions since and I currently use Office 2013 and Outlook 2013.
One question that I see a lot, and is not necessarily the first thing you think about with Outlook is: How much email will it hold and how can I find my email? I chose to start here to get a high level overview and I will get into setup deals immediately after the high level discussion.
Overview
Outlook, as used by many individuals, stores email locally in a
PST
file (
P
ersonal
ST
orage file). This is known as POP3 email and is very common amongst users. IMAP is also common and the local file may be an
OST
file (
O
ffline
ST
orage file) which is a cached copy of your email that lives on the web in IMAP folders. The Offiline OST file allows access to your email when you are not connected to your IMAP folders. Outlook 2010 and 2013 using Unicode format (default) both have a limit of 50 GB of email in a single PST file. Don't even try such a large file as it could be very slow to use. I keep my main email file (not including Archives under 2 GB).
I have all my email going back to 1996 when I used Eudora for Windows 3.1. Obviously, if you keep all your email in your Inbox (and some people do try!), you would drown Outlook and yourself. So I have four fundamental strategies for using Outlook email:
I keep my emails in folders on order to keep my inbox small and as way to organize work. I have folders for every client, every volunteer activity and every subject that is current in my life. I have about 75 active folders. I organize my head (I have been running my own consulting business for about 14 years now), and so I generally know what is in these folders. I can generally find information very quickly.

I keep my inbox small. Generally I will empty it out into folders on a Saturday morning and then keep important emails in my inbox during the week. So long as everything is in folders, I can open any particular client folder and be on top of all issues for that client or activity. A small inbox usually means faster performance.

I archive my email. I set Auto Archive (Advanced Outlook Options) to run every 60 days, to not delete old or expired emails, and to archive everything older than 12 months. I have 5 archive files (prior to 2006, 2006 to 2008, 2008 to 2010, 2011 and 2012 and 2013 forward). The later archives are bigger because of attachments, and when the most recent Archive gets to December 2015, I will close it and start a new archive. Archives are PST files and can live in the Outlook folder tree and be opened and used as needed. My biggest PST file is less than 1.3 GB.

I index Windows and Outlook. This way, Archives are indexed along with my main email file and I can usually find what I want quickly, even if archived. Indexing works well in Windows 7 and Windows 8.1, decently in Vista, and not particularly well in Windows XP. Outlook 2010 and 2013 rely on Windows Indexing which is set up in Control Panel.
We can now move on to some details about Outlook, but a big piece is out of the way: That is, Outlook for individuals uses local PST files and managing PST files effectively is a good way to keep you and Outlook both happy. This would be a good place to mention that PST files should never be kept on a network, but rather on the local computer running Outlook. Keeping the PST file on a network is not supported by Microsoft and will likely lead to PST database damage.
Basic First Time Outlook Setup
Setting up Outlook to send and receive email is reasonably straightforward, but I see numerous questions in Experts Exchange that suggest an overview of email setup is worth the time here.
Outlook maintains a Profile to manage the overall setup of an account and its associated PST file. We set up a Profile in the Mail applet of Control Panel and Outlook will default to a profile name of OUTLOOK. If you have one account (or one default account that you use all the time), select the option to "Always use this profile". If you wish to select the account, use the other option "Prompt for a profile to be used".
If an Outlook Profile goes bad, it can be deleted without losing your email. Deleting a Profile will
not
delete the PST email file, but you will have to set up accounts again. Safety first, of course, so make a backup of the PST file before deleting the Outlook profile (just in case). Outlook must be closed when working on, setting up, or deleting profiles. See the basic Profile setup below.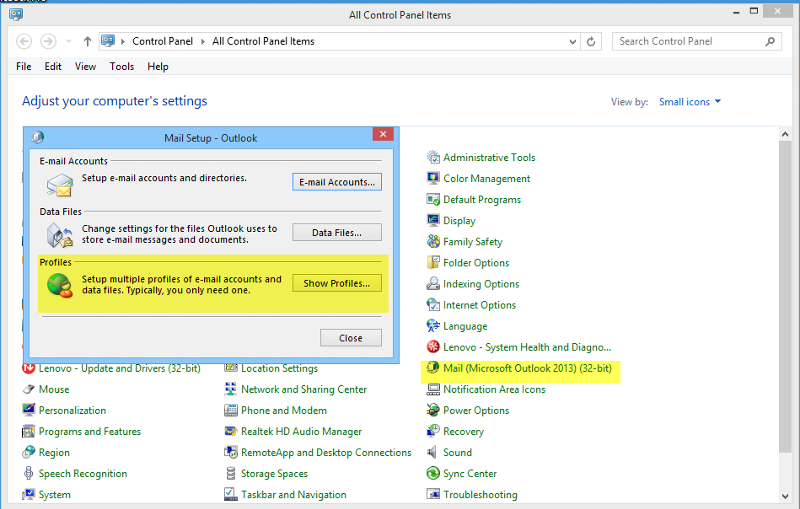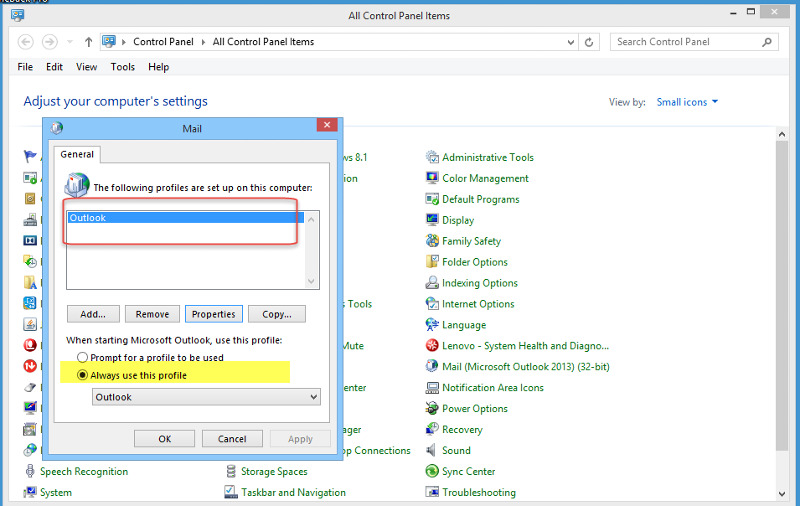 Once you have an Outlook Profile set up, you need to set up an account. Most of us get by with one account; however, some of us will have several accounts. I have about seven accounts but only one default account and the other six are inactive unless I deliberately use them. So even in my Outlook, Send / Receive just collects email for my default account. I will go into a little more detail on setup of default Send / Receive accounts and settings a little later.
Sending and receiving email is not magic (sorry about that), and you will need to know the email account name and password. Countless people forget their email passwords and so cannot fix issues because they can no longer access mail if they have to delete an account or profile to make repairs. Please (for your own sake) make a record of your account name and the password. The rest of the setup can be obtained from your ISP. Here are the basics below in a number of screenshots. If you are setting mail up for the first time and you do not have (or do not have access to) an existing mail file, then you are done at this point. Mail is up and running for you.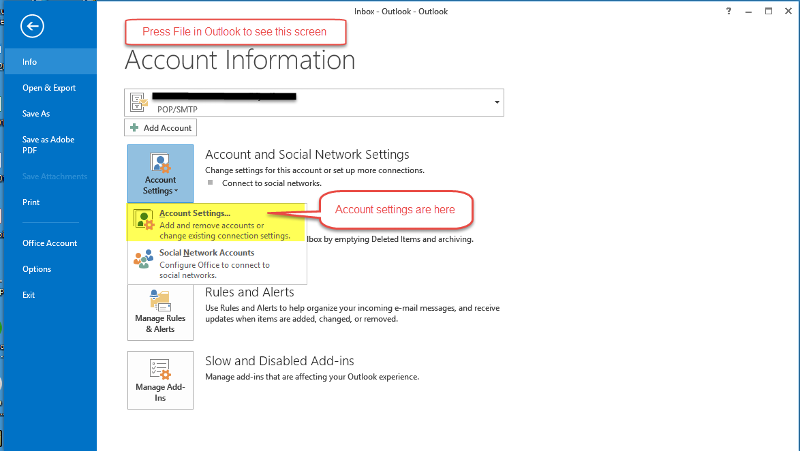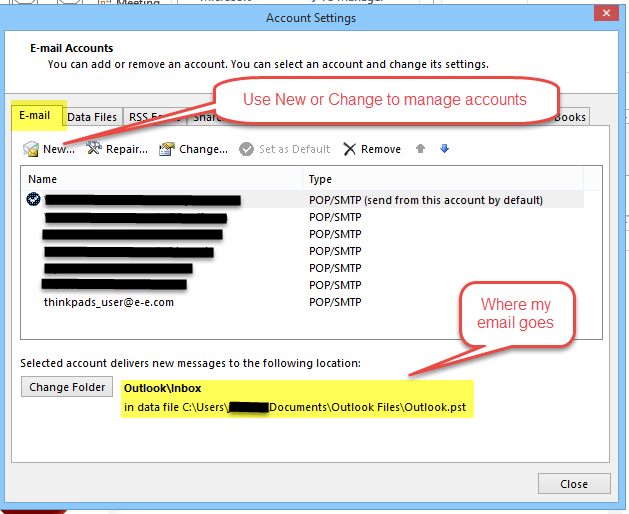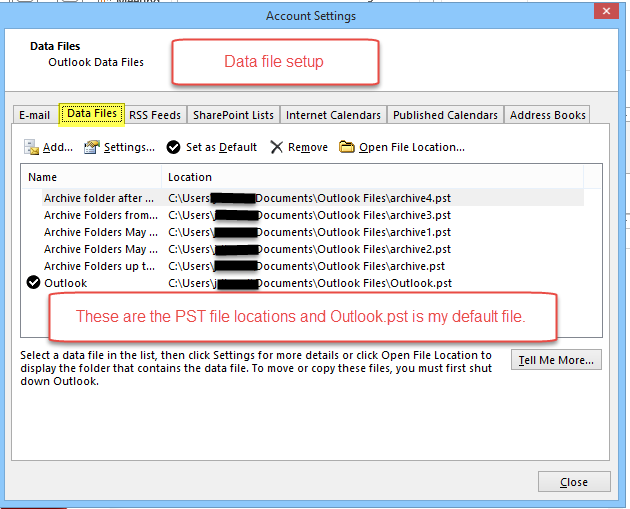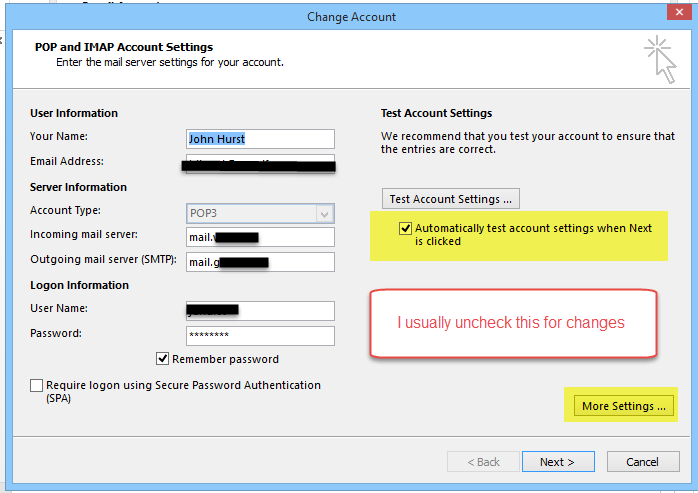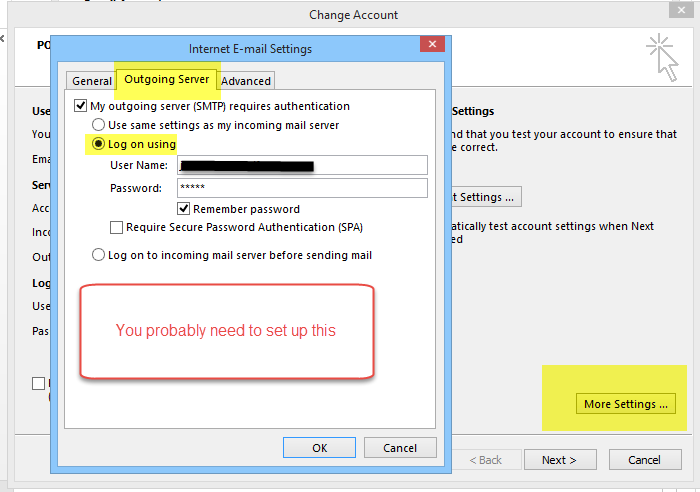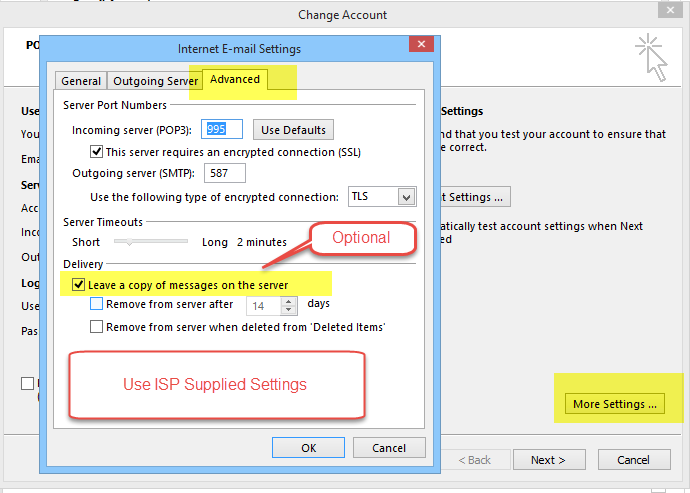 Moving or repairing Outlook
If you are repairing your computer, or repairing Outlook, or moving to a new computer, and you
have
a PST file, the easiest and safest way to get your mail is to import the email from the backed up PST file into your new Profile and new PST file. Please note the location of your PST files in the screenshots above. This location may vary by user, although the common default location is C:\Users\jusername\Documen
ts\Outlook Files

Open Outlook, click on "Open & Export", and then "Import / Export". A new window will open and then click on "Import from another program or file", next, and select "Outlook Data File (PST)". Now browse to the backed up PST file, select the option to "Replace Duplicates", Next, and in the next Window, select "include subfolders" and "Import items into the same folder". Click on Finish and allow the import to complete. The bigger and more obese the Outlook file, the longer it will take. You can, if you are careful, move the PST file into the Data file location before collecting your first email and overwrite the existing PST file. Be careful. Names must be the same and you do not want to wipe out any mail. Importing is vastly safer. See below: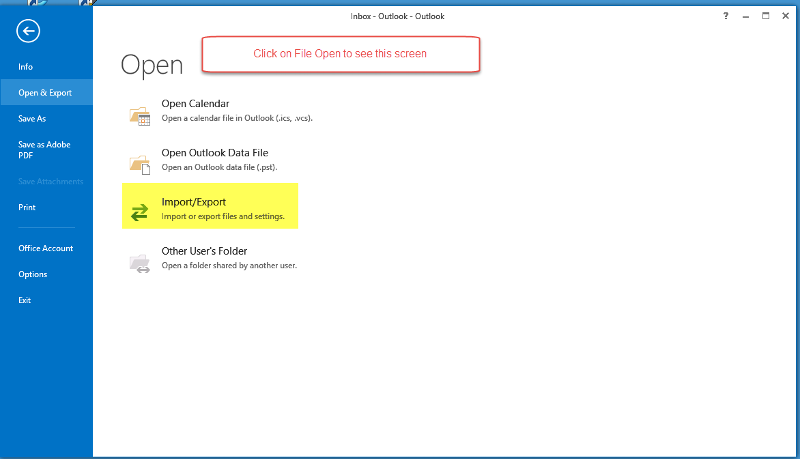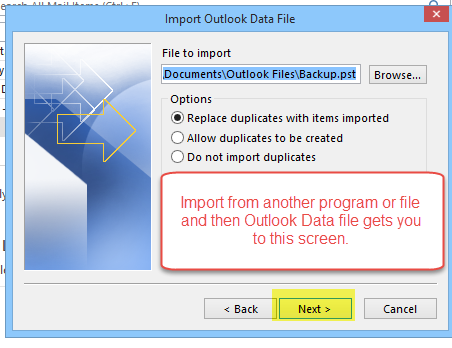 If you now want a second account (or more), there is a new feature in Outlook 2010 which carries forward into Outlook 2013 where Outlook defaults to a setup Wizard that makes a new PST file for each account. This may fit some people, but it most certainly does not fit me. If you wish to keep all the email for all accounts in one PST file, do not use the Outlook account setup Wizard. See below: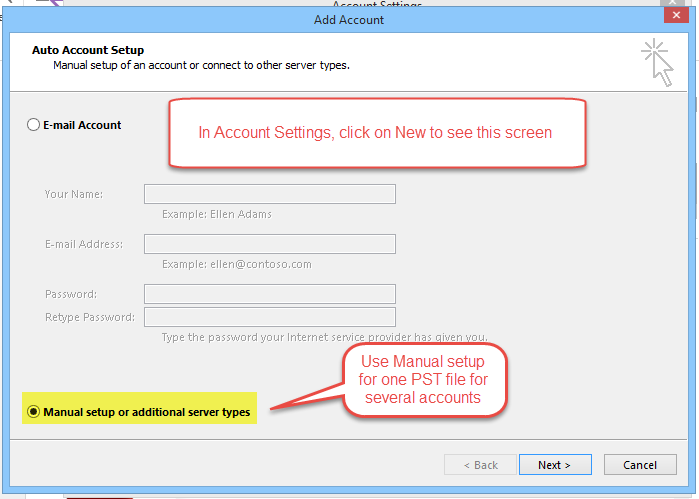 We now have Outlook running with one or more accounts. I think a logical next step is to establish folders that can help you organize mail (and so your thoughts as well).

Main Screen and Folder Setup suggestions

For me, folders in a list and an absence of sub-folders make a lot of sense. I see people lose folders in a cluttered tree and it can waste a lot of time. You may disagree, of course, but a linear folder list happens to suit me very well and allows me to sort through things easily. I keep my email list of headers on top in the center of the main screen and the reading pane below the list. Most people keep it side by side but I have tried all the presentation methods and the one shown below suits me best. You should use whatever suits you best. I run my life on my Outlook Calendar, keep the calendar on the right side of the main email section and sync it to my iPhone. See my overall setup below using the Home tab: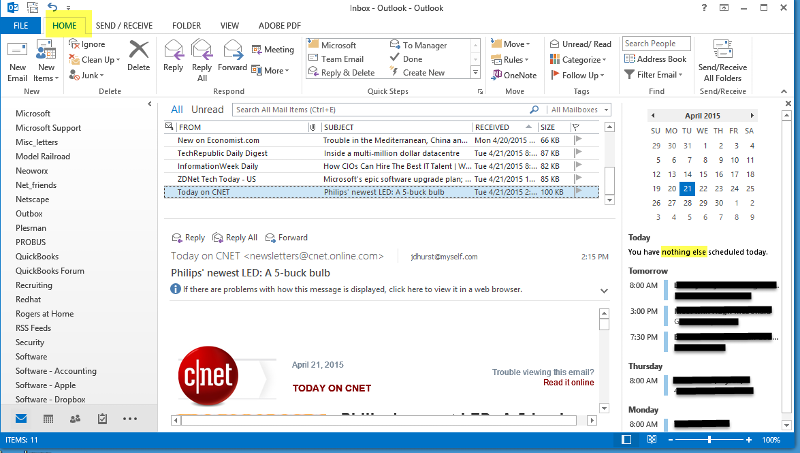 The Send / Receive tab allows you to deal with Send / Receive Groups, email send / receive frequency, and what accounts are enabled. This is a powerful but little used section to assist you with dealing with multiple accounts. There is a lot in the screenshot below, but look carefully because this is the main setup area for multiple email accounts. You can set up the Send / Receive interval and select which accounts are included in Send / Receive. You can do a manual Send / Receive for any accounts not enabled. By setting this section up properly, you need only click on Send / Receive on the main Outlook Home screen, and it will do what you want.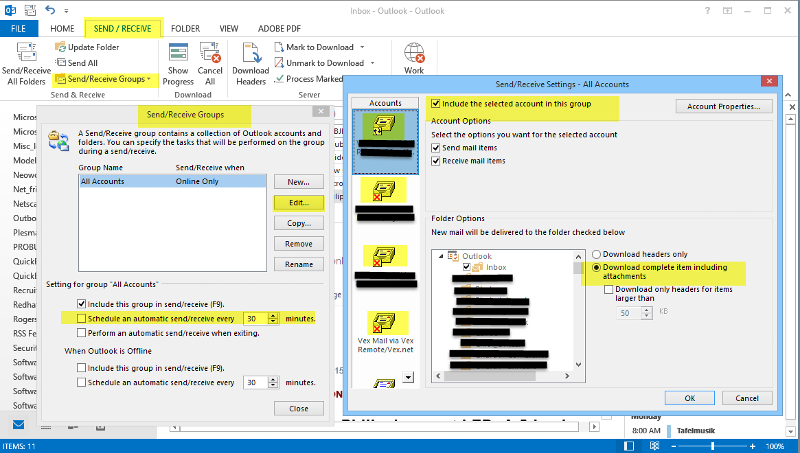 The View tab allows you to change views (e.g. what columns you see in the central mail list), deal with Conversations (threaded view of emails), and set how many lines are used in the mail list (I have this option set to off to keep a tight mail list). Use the options in this section instead of dragging columns into place (and like operations) because changes in here are more likely to be permanent.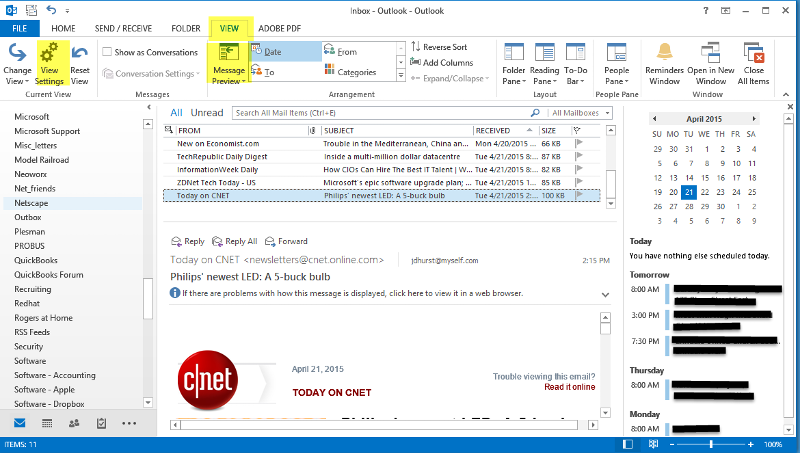 Wrapping Up

There is a huge amount to know about Office, Outlook, and Word (the Outlook Editor). Whole books are written about this stuff. However, I thought it worthwhile to conclude with some thoughts about using Outlook.

Outlook and iPhones (or other smart phones): I sync Calendar, Contacts, Notes and Tasks from Outlook to iPhone with iTunes. That way everything I need is in my pocket if my computer is not available. I then say Outlook is truth and iPhone is not. I only sync one way most of the time. That way, if the iPhone gets confused, I need only restore and re-sync. This is a helpful approach for me.

Calendar Usage: When I make a client or volunteer appointment, I put the main task in brackets with the client name in the subject field, e.g. Experts Exchange (Write an article). That way, when my iPhone buzzes me about an appointment, it tells me who, what, where and when at a glance. This is exceedingly helpful.

Attachments: If attachments are important, I save them in organized Windows folders. That keeps a good backup of attachments (I use SyncBack Pro to keep documents on my other computer); makes attachments easy to find (Windows indexing); and allows me to also keep in DropBox for added iPhone use.

Spam: I have no time for spam. My primary POP3 email provider is Mail.com and they do an excellent job of simply deleting most spam and putting a small amount in quarantine which I must delete. I pay a small annual fee $25) so that I may forward email to my email ISP where I live and additionally my email ISP runs Spamassassin so I get very little spam. This is all separate from Outlook and my iPhone.

Good luck with Outlook and happy hunting!