In this tutorial, I'll explain how to add VMware vSphere Hypervisor ESXi Hosts to VMware vSphere vCenter Server 6.0. Although this article refers to VMware vSphere vCenter Server 6.0, the same procedure can be applied to all versions of VMware vSphere vCenter Server 4.x - 6.0, whether it's VMware vSphere vCenter Server for Windows or the VMware vCenter Server Appliance (VCSA).
The steps below will show you how to:
Create a vCenter Datacenter.
Add ESXi hosts to vCenter Server for management.
10 common questions about vCenter Server
Before we start, here are responses to the 10 most common questions I see on Experts Exchange in regard to vCenter Server:
vCenter Server is just a management server. It allows for the easy management of many ESXi hosts in a single administration pane using a single connection to the vCenter Server. Without vCenter Server, you would have to login to each and every host to manage it.
vCenter Server can only manage licensed ESXi servers. It cannot manage free hosts, and therefore, you cannot add or manage free ESXi hosts with it. You need at least a starter edition of VMware vSphere Essentials, which includes licenses for VMware ESXi and vCenter Server.
vCenter Server records performance information of hosts and virtual machines to a database.
vCenter Server monitors your hosts and virtual machines, you can set alarm thresholds using the tool.
Networks and datastores are not added to vCenter Server. Instead, they are connected to the ESXi host servers.
vCenter Server allows you to configure VMware HA, but vCenter Server does not control VMware HA.
vCenter Server allows you to use vMotion, the live migration of virtual machines.
If vCenter Server is unavailable or is restarted, it does not affect the running virtual machines on the Host ESXi servers.
If you do not create a datacentre or add ESXi hosts to be managed, vCenter Server does nothing!
The version of vCenter Server must be the same or higher than the hosts its managing (e.g. Center 5.5 cannot manage ESXi 6.0 hosts, but vCenter 6.0 can manage ESXi 6.0, 5.5, 5.1, and 4.1 hosts). Check the VMware Product Interoperability Matrixes​ for details if you're unsure or want more detail. You can also post a question in the VMware zone.
Additional resources
For your convenience, I've listed additional vCenter Server articles below:
After the last article, you were left connected to the vCenter Server using the vSphere Client.
Let's get started
The following steps will show you how to add VMware vSphere Hypervisor ESXi Hosts to VMware vSphere vCenter Server 6.0:
1. Creating the VMware vSphere Virtual Datacenter.
Click Home > Inventory > Hosts and Cluster. This is where you will usually see your Virtual Datacenter and host servers when they've been added.
Click Create a datacenter.
A datacenter icon will be created in the left pane, waiting for you to enter a name. The default is "New Datacenter". Enter a meaningful name. I've named mine the "EE Training Datacenter".
Enter the IP Address of FQDN of the host to add to vCenter Server. I recommend using the FQDN.
Enter the username (default - root) and password of the ESXi host server.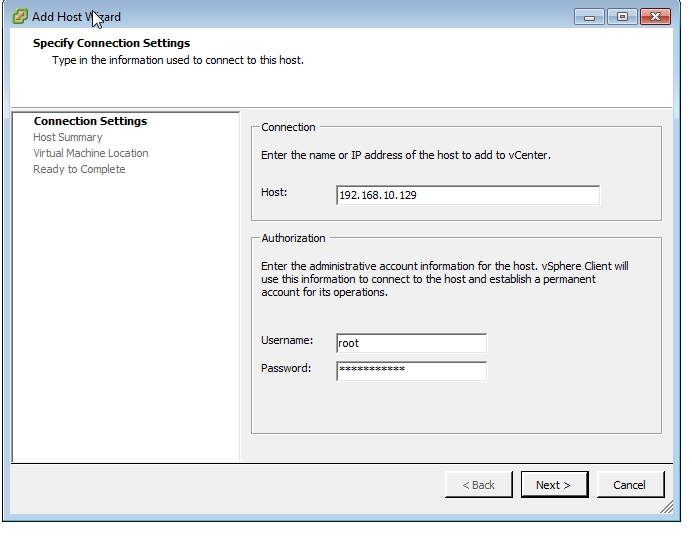 Click Next, and Accept the SHA1 thumbprint.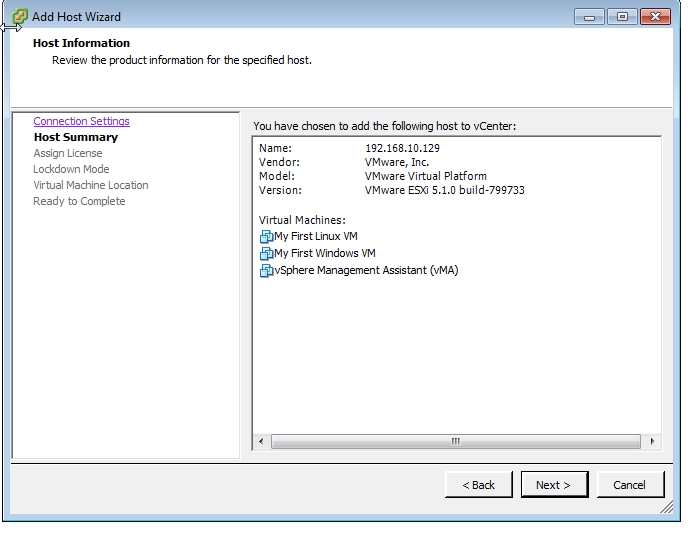 Review the host summary which shows the virtual machines currently registered with the host and the host version. We are adding a ESXi 5.1.0 host server to vCenter Server 6.0.
Click Next.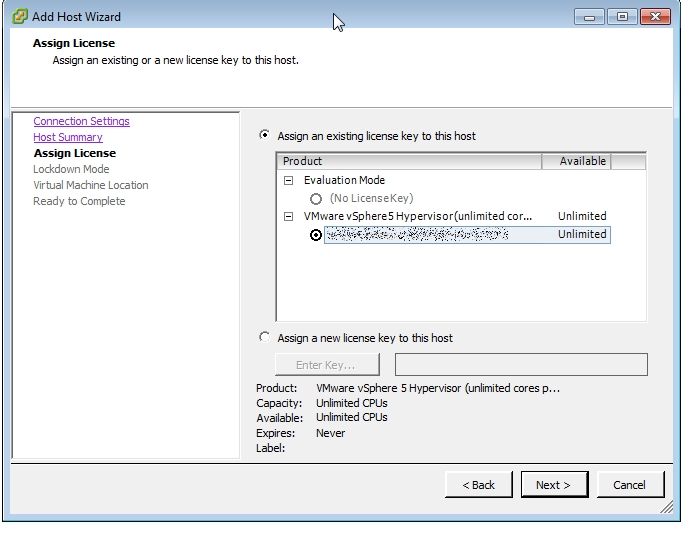 Assign a new license key to this host by selecting this option and entering a new key, or by using the existing license key assigned to the current host.
Click Next.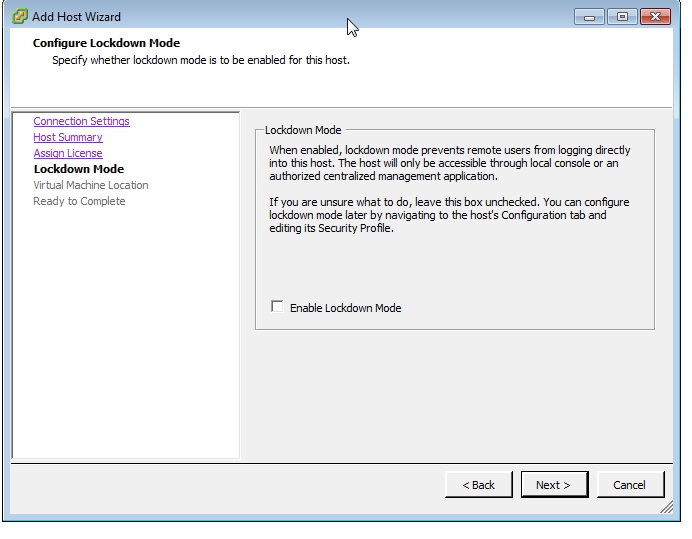 You will now see Lockdown Mode. Enable if you have a requirement to enable it. Lockdown Mode is useful if you have ESXi hosts in a shared or untrusted datacenter. However, it locks the host console, so be warned!
Click Next.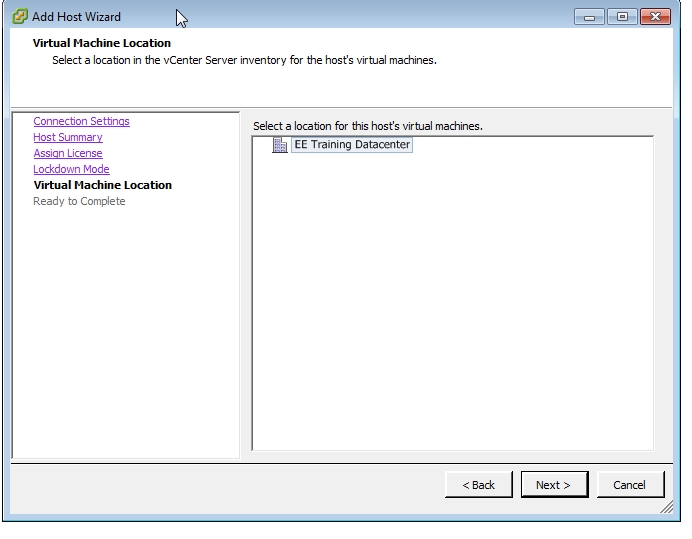 Select a location for this hosts's virtual machines, and click Next.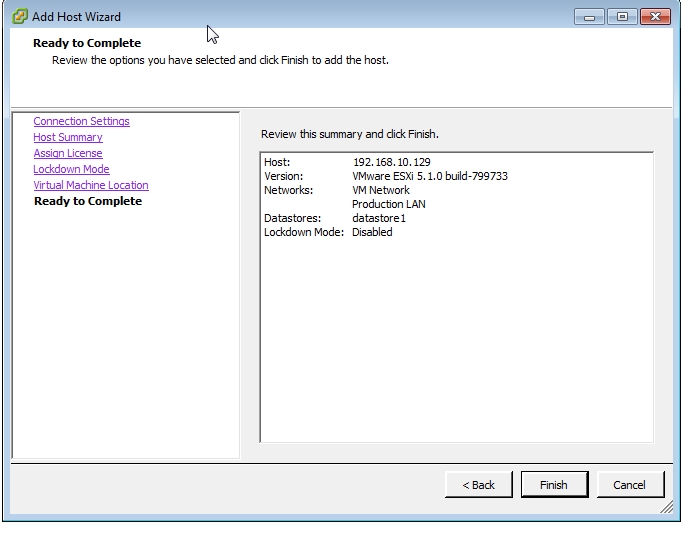 Here you can add another ESXi host, but note that this host is ESXi 5.5 which is hosting the vCenter Server 6.0 that we are currently connected to.
Here you can see the two ESXi Hosts that were added and are now being managed by vCenter Server.
Now you can manage all your VMware vSphere ESXi Hosts from a single point of administration by connecting to vCenter Server and easily perform vCenter Server tasks.
Congratulations you have successfully added VMware vSphere Hypervisor ESXi Hosts to VMware vSphere vCenter Server 6.0
Basic VMware Articles Series:
During this series of articles VMware released VMware vSphere 5.5 and VMware vSphere Hypervisor ESXi 5.5. These articles are also applicable to VMware vSphere Hypervisor ESXi 5.0 and 5.5. For consistency, I have used VMware vSphere Hypervisor ESXi 5.1 throughout this series.
************************************************************************************************
Thank you for reading my article, please leave valuable feedback. If you liked my VMware article and would like to see more Articles from me, please click the Yes button near the: Was this article helpful? at the bottom of this article just below and to the right of this information. Thank You. Do not forget if you have a question about this article or another VMware, Virtualisation, Windows Server 2012 question, why not post a Question for Me and the other Experts Exchange Experts in the VMware, Virtualisation, Windows 2008, Windows 2012 Zones. I look forward to hearing from you. - Andy :- twitter @einsteinagogo
************************************************************************************************