This article describes a number of issues across two Windows 10 Pro computers - one Desktop and one Laptop and the solutions I employed to fix the issues.
Windows 10 is now four years old (August 2015 to the current time – May 2019). I have been using Windows 10 all this time and have written several well-used articles about Windows 10 here in Experts Exchange. I have two computers in my home office that I purchased in 2016 with Windows 10 Pro 64-bit OEM pre-installed.
The Desktop is a Lenovo M73 and the Laptop is a Lenovo X1. Both have 16 GB of memory and both (now) have large SSD drives in them. I have another Lenovo X230 that I purchased in 2013 with Windows 8 OEM preinstalled. The laptop converted to Windows 10 Pro in August 2015. This machine got caught up in the Microsoft rush to install Windows 10 whether you wanted it or not. But instantly Windows 10 was vastly better than Windows 8 and 8.1. This laptop is now my Windows Insider machine running Windows 10 V1903.
Generally, the two main machines have worked well and have never been out of service, but like most of us, I have had issues here and there and the purpose of this article is to describe the issues and then describe the fix I used to correct each issue.
The laptop machine has had more issues than the desktop machine. Why would this be the case?
The laptop gets vastly more use and harder use.
The laptop has software the desktop does not have – NCP Secure Entry VPN, Power Management for Suspend and possibly Hibernation, some financial software, and wireless and cellular networking cards for Internet access.
I shut the laptop down overnight; the desktop runs 24x365. I suspend, unsuspend, suspend and unsuspend the laptop daily.
On the laptop, I need to use Wireless (Intel 8260), Wired Ethernet (Intel I219-LM), and HUAWEI Cellular Internet. I interchange these at will, whereas the desktop loafs along with Wired Ethernet all the time.
So, in general, the laptop gets significantly more varied and harder use which means more opportunity for problems and issues to arise.
Desktop Computer
I have not had to do much with the desktop computer (no big issues), but I noticed a year or so ago that Cortana was missing. I could not get it to install and I learned a little while ago that Cortana worked in a different user ID, just not my main user ID. So, the issue was probably a user profile problem, but it was really not important enough for me to do anything about it.
Then earlier this year, I decided to change the hard drive for a Samsun 2-TB SSD drive. This necessitated reinstalling Windows 10 and Cortana is now working fine in my main user ID. That re-installation adventure is described in my Article below:
Just before reinstalling Windows on this machine, I determined there was a firmware update to my Cisco RV325 VPN Router. I started Edge, downloaded the firmware, logged into the Router, updated the firmware, restarted the Router and then I could not any longer log into the Router. One Cisco article suggested I may have to reset my Router to factory specifications. I was not the least bit interested in doing that. I have my own subnet and various client tunnels that would all have to be rebuilt. I started Internet Explorer and successfully logged into the Router so I knew the Router was just fine. I restarted the computer, tried Edge again but without any luck.
Now you can repair Edge and most of the Windows 10 Apps. I am used to doing that on my laptop computer but never had any need to do this on my desktop computer. I accessed the Edge App in Windows 10 Apps, did both the repair and reset, restarted and could log into the Router just fine after that. Please see the screenshots below for repairing Apps. Not all Apps have the same repair functions, so just be guided by the options that are offered.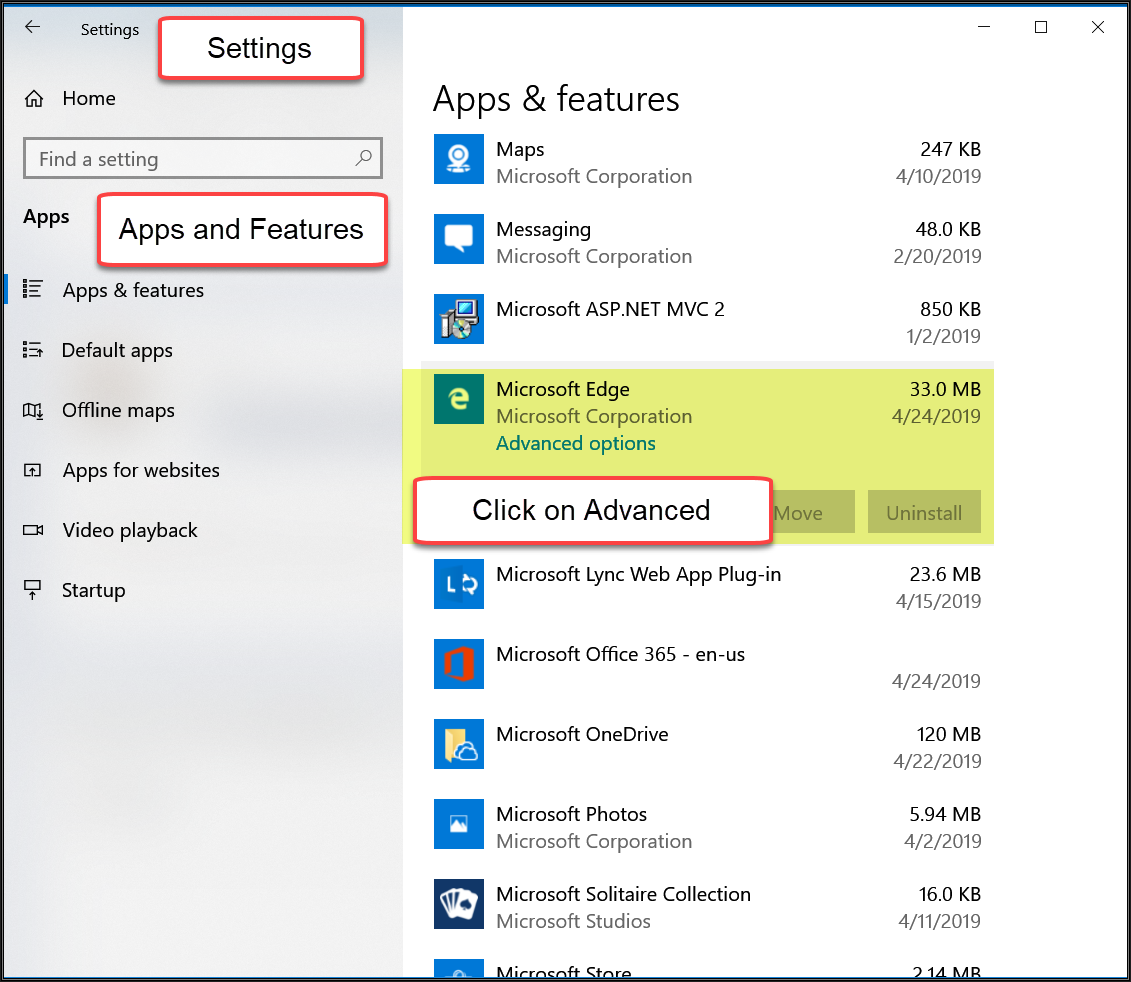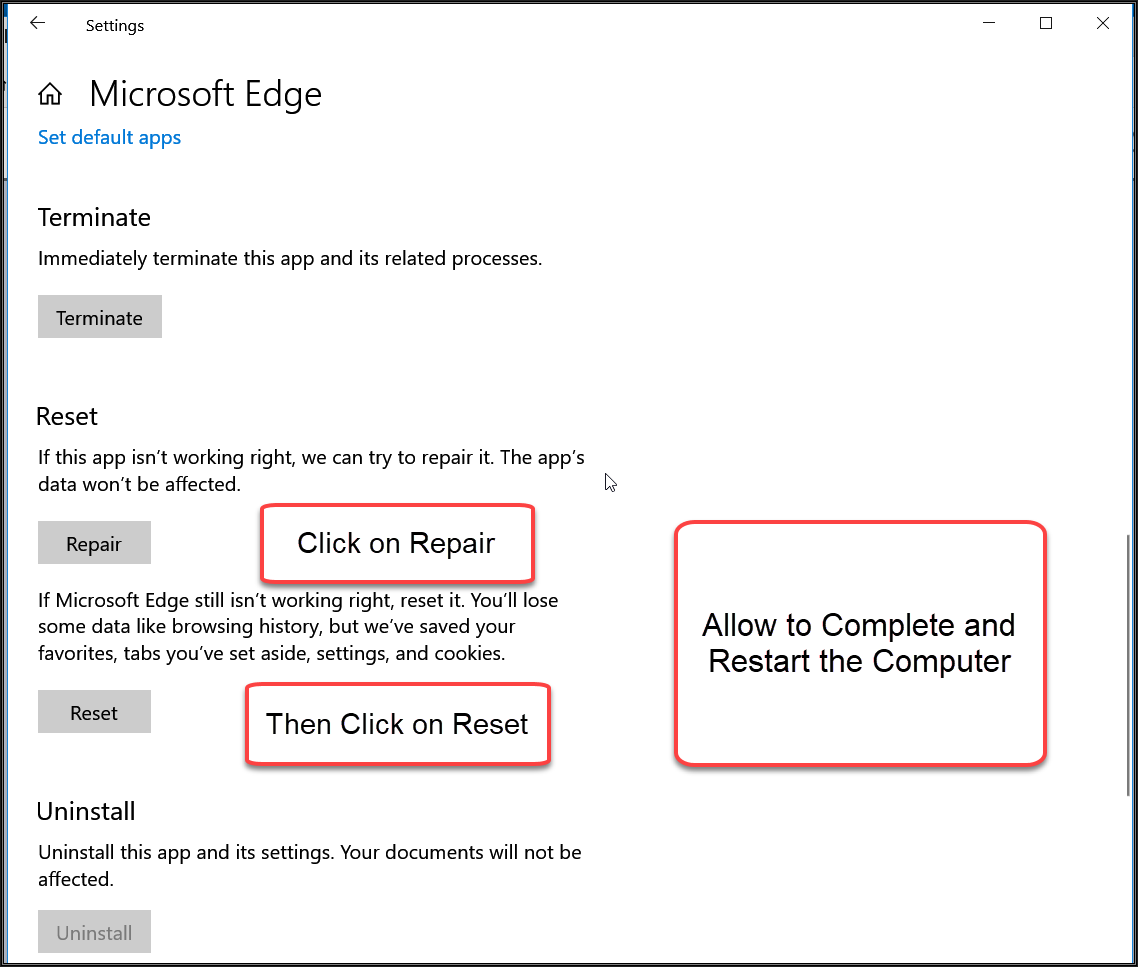 Here is a screenshot of the Cisco box that I was upgrading the firmware on. This shot shows my site to site tunnels nicely connected.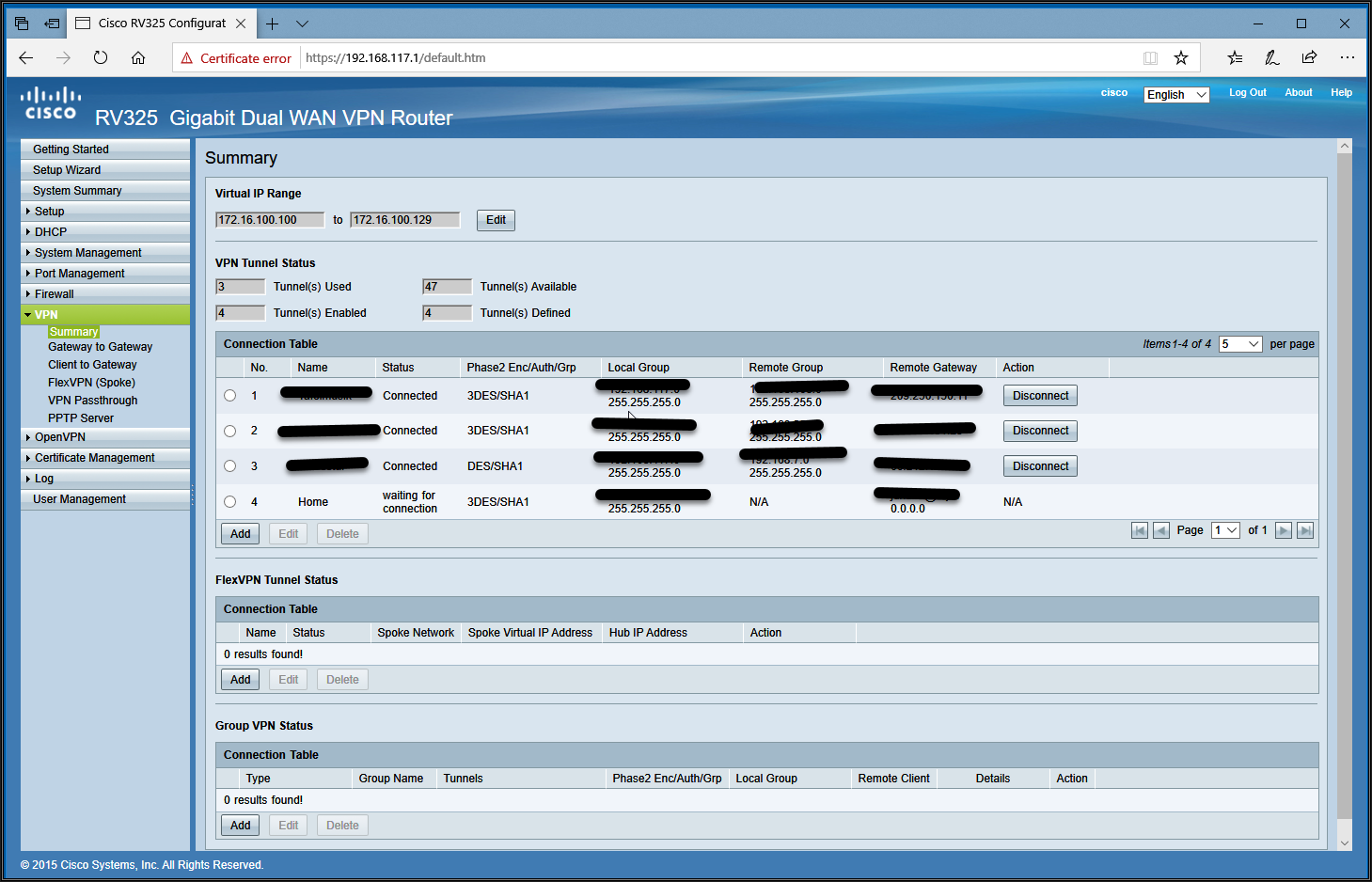 Now that I have reinstalled Windows to accommodate the new drive, all is working well, so that it was indeed an excellent project to have undertaken and completed.
Laptop Computer
As noted earlier, I have had more issues with my laptop – none that prevented using it, just small bugs that I wished to solve.
Windows 10 Repair Methods
There are several methods to repair Windows 10 and this is a good spot to review the methods first as I will be referring to them later.
System File Checker (SFC) and Deployment Image Servicing and Management (DISM):
SFC repairs damaged system files and DISM ensures that system files are current. If problems are minor (or perceived to be minor), I run SFC followed by DISM, then restart and test. Run both of these from an Administrative Command Prompt (right click on cmd.exe in C:\Windows\System and select Run as Administrator).
SFC /SCANNOW and allow to complete.
dism.exe /online /cleanup-image /restorehealth and allow to complete.
Restart after both the above have completed and test.
Windows 10 Repair Install and Keep Everything: This repair downloads the current version of Windows 10, installs it, makes a copy of the prior install in c:\windows.old so that you may roll back if needed, and keeps your applications and data as they were. So long as your system is running (it must be able to run) and running reasonably well, this is generally a reliable repair. I have used this repair numerous times and never once lost anything.
Windows 10 Repair Install and Keep only Data: This repair downloads the current version of Windows 10, installs it, keeps your data (I have 200 GB of data on my laptop), makes a c:\windows.old backup, and deletes your applications. This means you must reinstall all your applications. Be sure you have a backup of all your applications and know how to lay your hands on these backups.
I have run this once on my laptop about a year ago to resolve a nagging issue (that I will describe in detail later in this article) and I learned that this form of repair keeps your Windows User Profile and many registry entries so that software installation goes amazingly quickly.
Here are the basic steps for a Windows 10 Repair Install:
Go to the Media Creation Link:
https://www.microsoft.com/en-us/software-download/windows10
Windows 10 is running (it must be running for a repair to work), click on the Download button (not Upgrade Button) and select Save.
Create a Windows USB Installation key and then run Setup from the USB Key.
This will launch the Repair and proceed normally from there. Pay particular attention to what it tells you. By default, it will keep apps and data and install over the top of your current system.
The final method of repair is to back everything up, format and install Windows 10 fresh. I did this very recently for my desktop computer because I changed the hard drive for an SSD drive. You would also consider a fresh install when "nothing works" or for a bad virus or ransomware outbreak.
Refer to my earlier article reference and I remind you that you will need the manufacturer's recovery USB key (best) or a retail license for Windows 10 before you start.
[Ed: It is possible to avoid a fresh reinstall in this scenario by cloning the HDD to the SSD and making any adjustments needed after the cloning process]
HP 8610 Printer:
I got the HP 8610 printer in 2015 (thereabouts) and l like the specifications:
The double-sized black cartridge was good for months of black and white printing and copying. Two cents per page including paper.
Colour cartridges are single-size but last roughly as long as the black because of the lower use of colour. Roughly six cents per page including paper.
Double-sided printing.
Scan to PDF.
Economical and reliable and handles medium-sized print and copy jobs easily.
This printer has a driver package issued in 2015 (OJ8610_198.exe) and it worked well up to the end of Windows 10 V1607. It was a constant problem in V1703 and was the least reliable and most problem-prone of all the Windows 10 versions. During versions 1709 and 1803, the HP driver package would not completely install, and I had to use the Windows Printer driver and the HP Smart App.
During the fresh install to V1809 on my desktop computer, I learned that the full package installed just fine. I went back to my laptop (now also V1809) and was able to install the full package. Scanning is more flexible in the HP Driver Package than in HP Smart, so I like it better.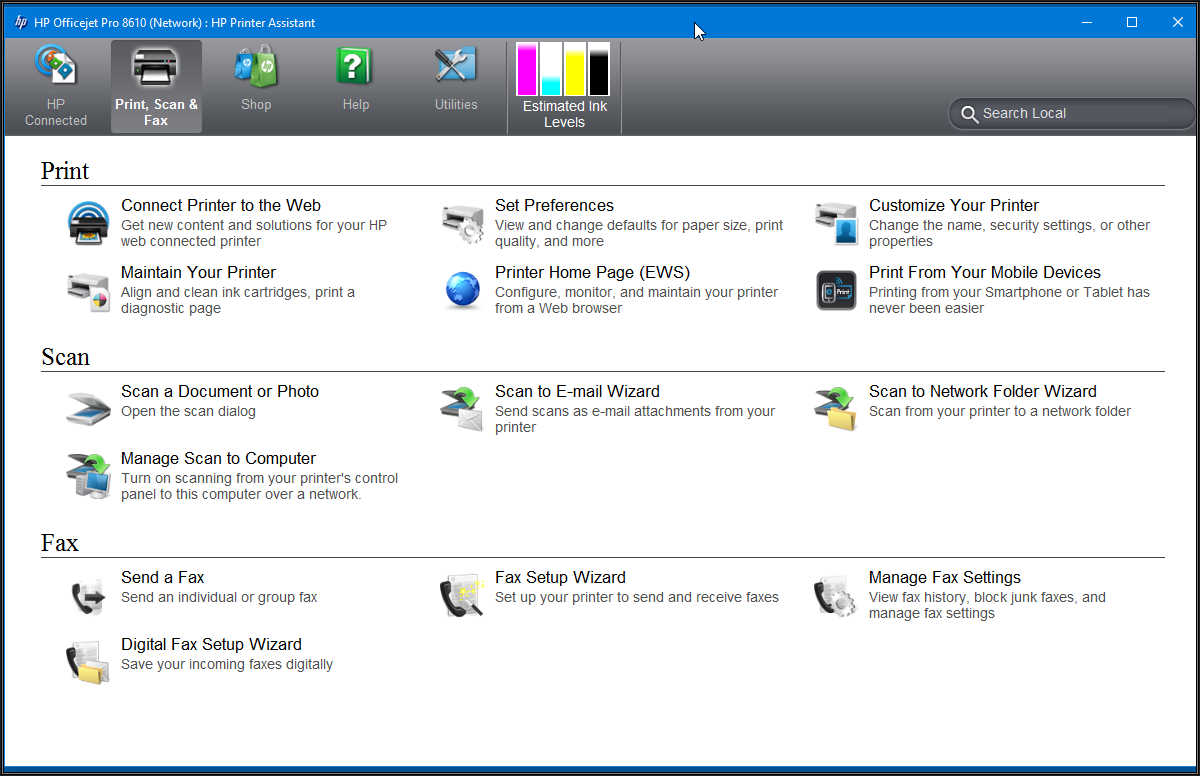 Audio Driver:
The laptop has a Conexant Audio driver and Dolby Sound. It is working correctly now, but for the most part, I was singularly unimpressed with it. The driver for Windows from date of purchase to the end of V1607 was from 2015 and worked tolerably well. A new version in 2017 was an abysmal failure in V1703 and early V1709. A version in September 2018 was a modest improvement in V1803 and finally (!) the newest version in March 2019 is working fully properly in Windows 10 V1809. This is the driver Conexant should have produced two years ago.
I do blame both HP and Conexant for not keeping drivers up to date, and I am firmly of the view that Microsoft should force manufacturers to provide software and drivers that work or do not allow the drivers to be installed. However, Windows 10 V1809 has apparently accommodated more hardware and fixed numerous bugs. The introduction of V1903 (which is running well on my Lenovo X230 laptop in the basement) has been deferred to May 2019 to allow more time for testing. Microsoft's haste in working to twice yearly feature upgrades has caused numerous user issues.
The above two issue span the period from April 2017 (the introduction of V1703) to March 2019 (after V1809 had come out and new drivers for my laptop had been issued)
In the middle of all this, I had two other distinct issues.
Weird driver issue:
I restarted my laptop after repairing the printer (see above) a few months ago and the screen turned upside down. None of the tablet controls or any other fixes from my Google search would turn the display right side up. The only fix I could do beyond what I had already done was to restore to the most recent prior point. I did this (20 minutes for the restore point to complete) and that fixed the display. I spent some time updating software that got lost in the restore and all seemed to be well, or at least so I thought at the time.
Here are the basic screenshots for a Windows 10 System Restore: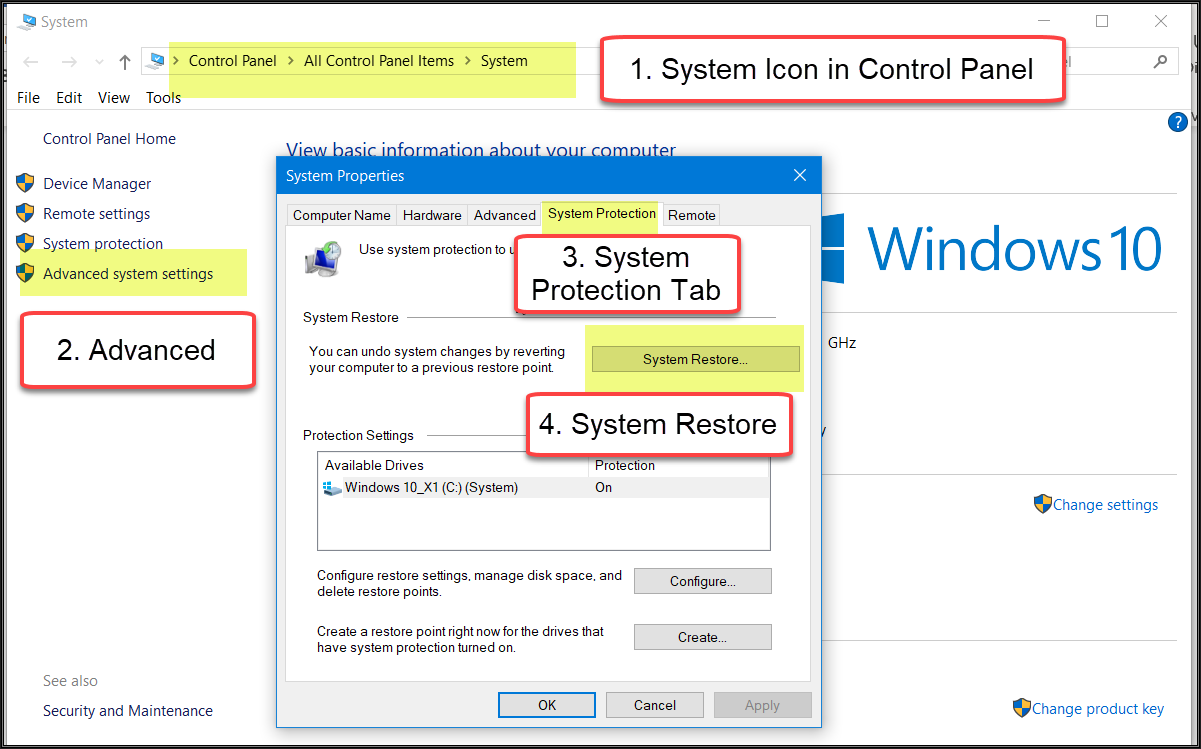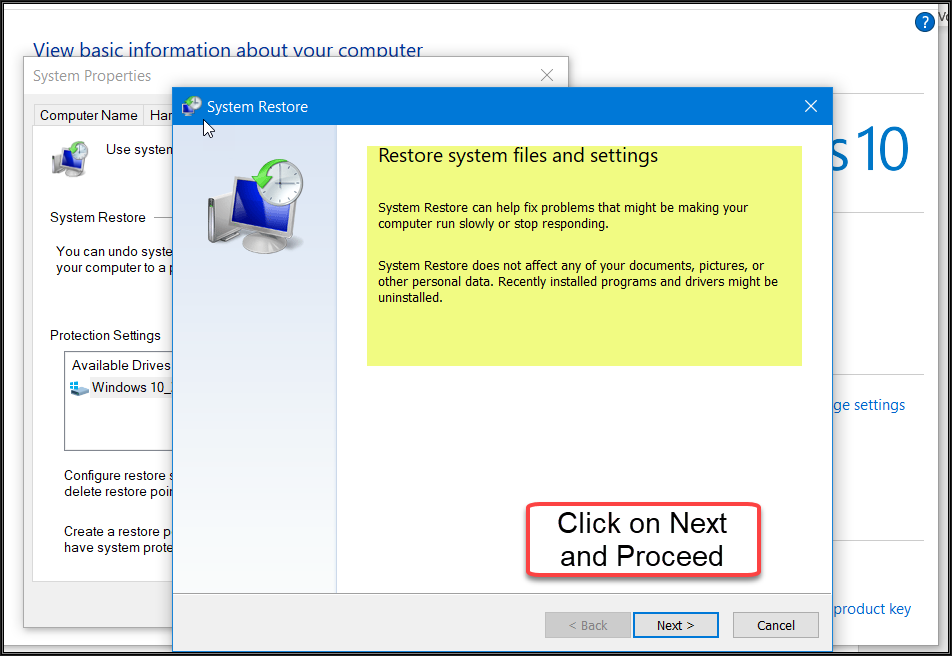 After a few days of trouble-free operation, I was using my computer, not doing anything much different than normal when the screen went nuts. The taskbar was not all there (only some icons), the screen was flashing uncontrollably, and I could not operate the start button or anything else. Ctrl-Alt-Del would bring up the standard choices. I restarted, shut down, and started up again but no matter, the screen would simply not settle down. A key point here is that there were error messages on the screen about audio driver issues. I tried to start in Safe Mode but could not use the normal method. Shift – Restart did get into Safe Mode but did not help as the screen was still flashing uncontrollably, and I could not see how to reinstall the audio driver or make other repairs.
I started preparation for reloading the operating system (I have decent backups and all my software). I started up, saw the login screen and then I realized that I had set up another standard user name (Manager) to help a member here with new Windows Insider Builds. I had not removed this user name from my laptop.
I logged in as the other user and the display was stable and useable. This was a bit strange because it appeared at first that it might be a problem with my main User Profile. Needless to say, I was relieved; at least I could use the computer properly. I ran System File Checker (SFC) and DISM and tried to log into my regular user ID but that did not work. It occurred to me that perhaps once more a system restore to a prior point would work. I made my Standard User a member of the Administrator's group (Windows challenged me for my PIN) and started the restore point. It took quite a while including a very long time fixing the registry (steps were displayed on the screen) – about 40 minutes in total. However, after a restart, my regular user was working – joy!
What did we learn here? I learned that looks can be deceiving. It was not then, not now and not ever a Profile issue – it was a Driver issue (that bad Conexant Audio driver). The original main user Windows Profile set up in 2016 continues to work well today.
[Ed: Whilst separate user IDs are handy to have for troubleshooting profile issues, it would have also been possible to achieve the same task by logging into the hidden Administrator account in Windows 10 which becomes available when booting into safe mode]
Here is a screenshot of making a new user ID if you should wish to do that.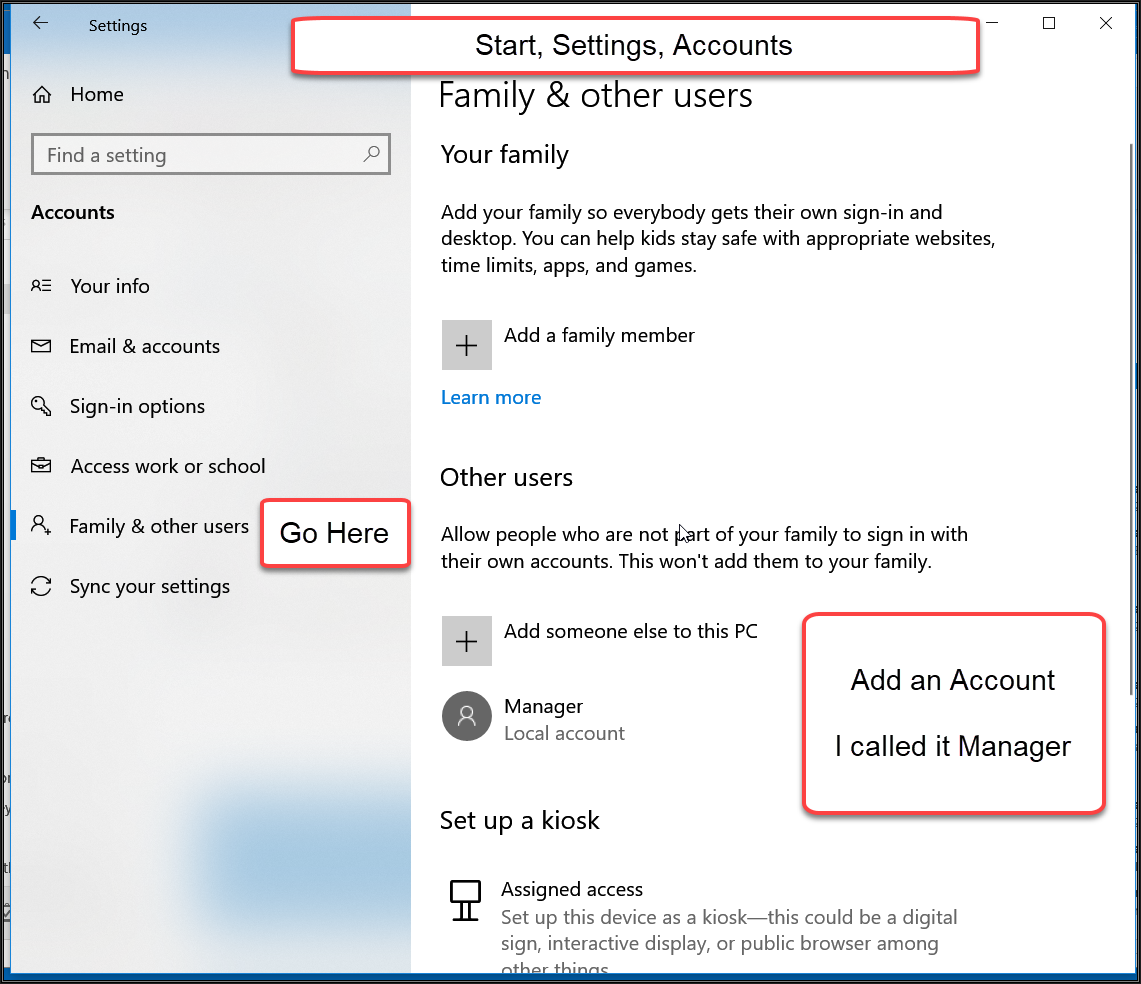 Right Context issue:
A more difficult and troublesome issue (troublesome because it affected normal computer use) was the failure of the right context function. Any attempt to use the right context would cause Windows Explorer to hang and then stop working. This was a problem for me. SFC and DISM did not do anything useful, and anything I tried as the result of Google searches did not help. I did a Windows 10 Repair Install and Kept Everything. This worked for a month or so and then the problem came back. This was just before the March 2018 MVP Global Summit in Redmond, Washington. I was heading there, so I did another Repair Install before going.
This Context issue recurred several times and finally, I took an off day, did another Repair Install and this time kept only Data (200 GB). As I did this and learned about it, I realized that my User Profile stayed intact and with important Registry Entries. Within a 10-hour day, I had reinstalled all my software most of which was still properly registered. That was about a year ago, and the Right Context has been working properly ever since. This very full Repair turned out to be a good thing to do.
To put all the above in some sort of context, my laptop has been in service every day. It was basically fine from the time I purchased it in 2016 until April of 2017 when Windows 10 V1703 came out. V1703 did not work well with my laptop and caused several issues. The printer problems recurred but I could always fix them and continue working. Same thing with the Audio Driver. I keep a current record of all this in One Note and so I was able to refer to my notes and fix issues quickly. The Right Context failure was problematic because it interfered with my work. That is why I decided to do a Repair that made me reinstall all my software; it was clearly a good decision. The laptop worked well after that (and well before V1703 came out) and a new Conexant Driver in March 2019 (finally!) means that Windows 10 V1809 is working very reliable indeed.
To wrap up, Windows 10 is basically a very good operating system and has improved over the years. WER Reports (from Windows errors) are taken seriously and fixed fairly quickly. Third party vendor software has not been updated as well it should have been. My X1 laptop has never been out of service and I depend upon it daily.
I hope these ideas and fixes will help you with your Windows 10 computer.