If you work with Word a lot, you probably use styles. If you use styles a lot, you've probably balled your fist more often than not when working with the ribbon.
In Word 2007/2010, one of the things that I find missing when using styles is a quick way to identify the style of a given paragraph. The emphasis is on "quick". The "slow" methods include:
Find the style highlight in the visible style buttons on the ribbon. Chances are that you'll have to click the drop-down arrow to display the complete style gallery to see the highlight. But some styles won't even show up here in the first place (like the TOC styles that determine the look and feel of each individual TOC level.
Open the Styles pane, which will be a little window that hovers in the document window. You can configure which styles show up in it, but depending on how many styles it shows, you will need to scroll to find the style highlight for the currently selected style.
Both these options I find unacceptable, because they involve too many clicks to get me where I want to be. I found a very "quick" way to identify the style by adding a command to the Quick Access Toolbar (QAT).
How to add the Style command to the QAT
1
Click the "Customize Quick Access Toolbar" icon and select "More Commands" to edit the QAT.
2
In the list of commands, select "All Commands".
3
Scroll down to the Style command. Note that there are quite a few starting with "Style" and some more for "Styles". The one you need is the first in the list, with an icon that looks like the insert mouse cursor.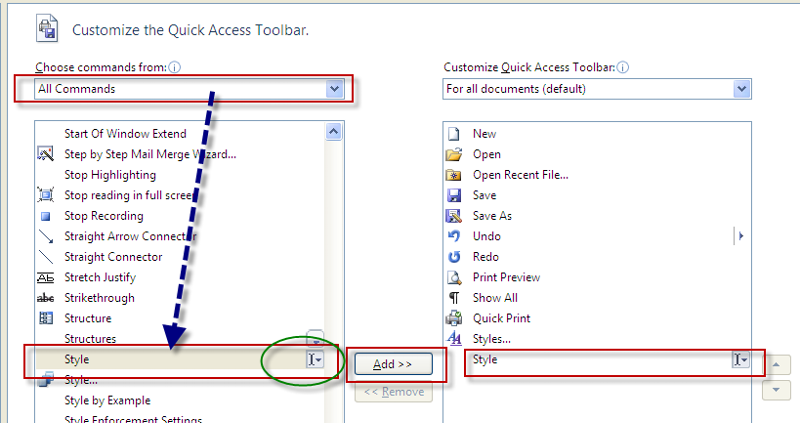 4
Select the command and click the "Add" button to add it to the QAT
5
Click OK to close the dialog box.
Now the QAT contains a drop-down box that displays the name of the currently selected style. In the following screenshot, my cursor is sitting in a paragraph that has been formatted with Heading1.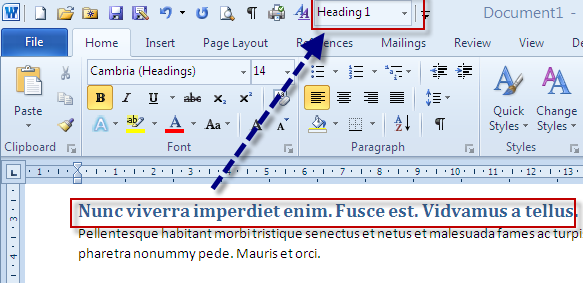 Added bonus:
you can of course use this drop-down to
assign
a style to a paragraph. And since the QAT is always visible, you do not even have to click back to the Home ribbon to assign a style.
Enjoy.