In this article I discuss my selections of the Top Four free Outlook OST File Viewers available. Open, view and read even damaged OST files by using these tools. They all provide a clear preview of all data such as emails, notes, tasks, calendars, etc., in just a few number of clicks.
An OST file is an "Offline Storage Table" used by Outlook, which stores all work done in an offline mode. An OST file is created when a user configures their Outlook account with IMAP settings or connects his/her account to an Exchange server. A very important function for Microsoft Outlook users who like to work in an offline mode.
However, when there are any unwanted changes in the normal working behavior of an OST file, the complete functioning of Microsoft Outlook can be affected in an adverse way. There are some scenarios where an Outlook OST file can become inaccessible. This can be caused by many reasons like corruption, power failures, virus or malware attacks etc.
In these types of situations, it can become difficult to open and view an OST file. Therefore, users start looking for solutions to be able to regain access to it. As manual remedies are tricky to perform, it's beneficial to use a professional solution to regain access to the file. There are various free OST viewer utilities available online that one can use to open and view an OST file's content.
In this article, I discuss a list of what I consider to be the top four free OST Viewers that provide users with a means to access and open corrupted, orphaned and deleted Outlook OST files. There are a number of applications available to view OST files, however to filter down the choices, I have picked out what I consider to be the top 4 free OST viewers that can be used without any confusion.
Best Free OST File Viewers to Read OST Files Without Outlook
As mentioned, there are a number of software solutions available to open, view and read OST files without Outlook available online. But not all of them provide best features like the ability to open a corrupt OST file, an easy to use interface, preview attachments and more features such as will be discussed below. Therefore, in this segment of the post, I try to identify the top 4 OST viewing solutions to clear up the confusion between so many tools. As they are all free, you can try and choose the ones that you consider to be the best to use.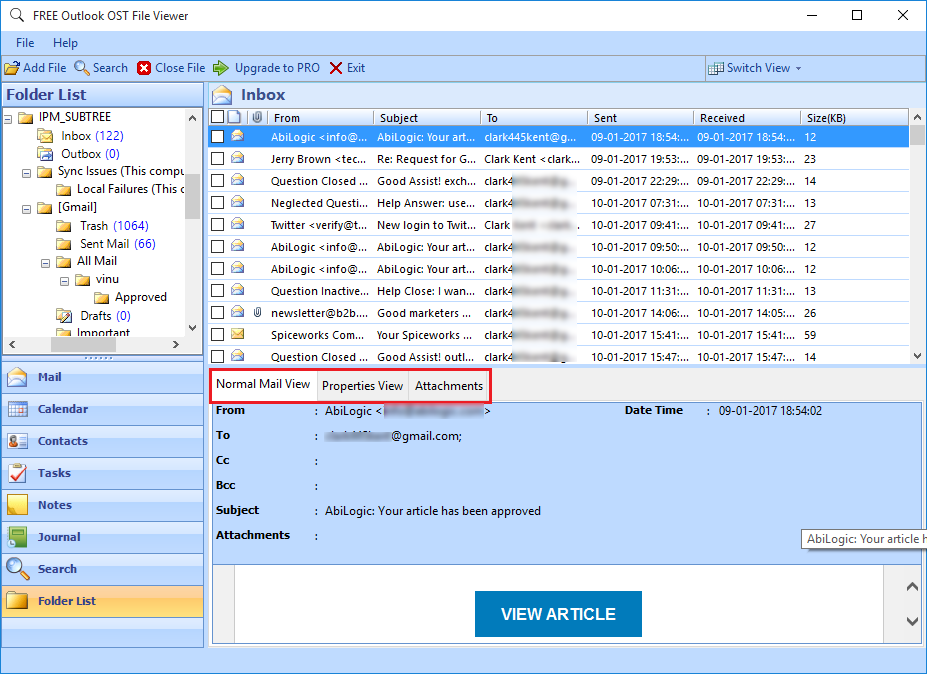 This OST File Viewing utility is written in such a manner that you can view any Outlook OST file without issue. It is an application that offers the benefit of easy access to Offline OST files without the need to have or install Microsoft Outlook. In addition to this, the tool also offers some advanced features that make it stand out from all other similar available solutions, such as:
Scan & View Corrupt OST File: If a user wants to access a damaged OST file, then this utility is the best choice for the job. It first scans the OST file to remove any corruptions and then provides an instant preview of the contents.
Multiple Modes to View OST File: Using this software, one can view all the data stored in the OST file. In addition, it provides 7 different viewing modes like normal view, property view, etc., to read data in deep.
Advance Search Option: Another impressive feature of this OST file viewer is the Advance search within the OST file. This helps users locate specific emails by typing matching terms or keywords in a text form.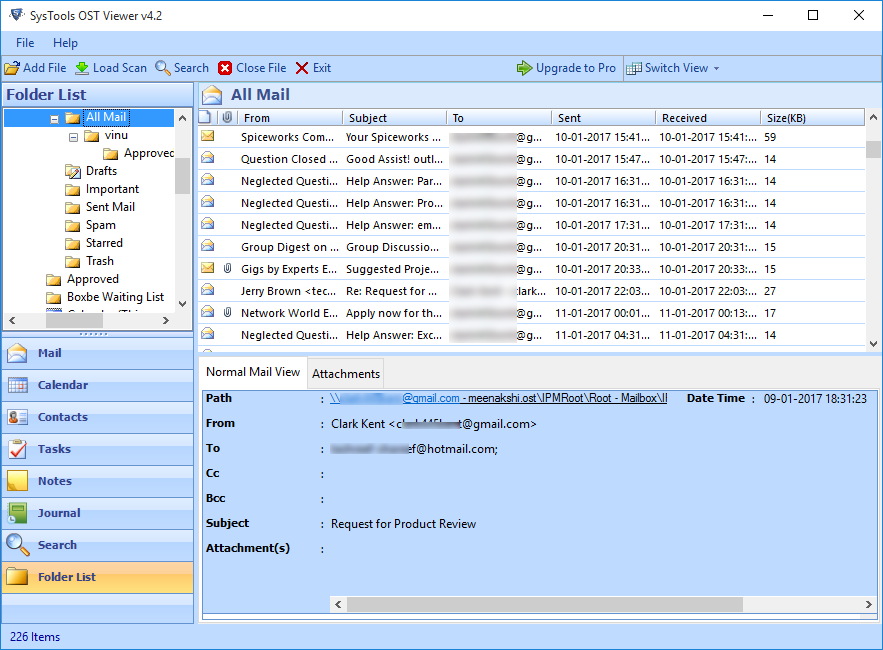 Systools OST Viewer is another popular freeware software package to open & read OST files. It is also one of the best free OST viewers that open Offline OST file without any hassles. This application is simply outstanding when it comes to viewing OST files without any file size limitations. Apart from that, it provides a preview of all data items like emails, contacts, calendars, etc., that are stored in the OST file. Some of the advance features built into this tool are:
Preview Multiple OST File in Bulk: Using this software, one can preview multiple OST files at once. One just needs to add the OST file and it previews the list of all OST files on the screen.
Dual Scanning Modes: The OST file reader offers two scanning modes. I.e. "Quick" and "Advanced" scan modes to correct any corruptions in an OST file. In the case of highly damaged OST files, a user is advised to use Advance Scan mode to repair it.
View Emails Along with Attachments: The tool is designed in such a way that one can view all emails along with attachments stored in an OST file. It also provides a preview funtion for most types of attachments like images, documents and so on.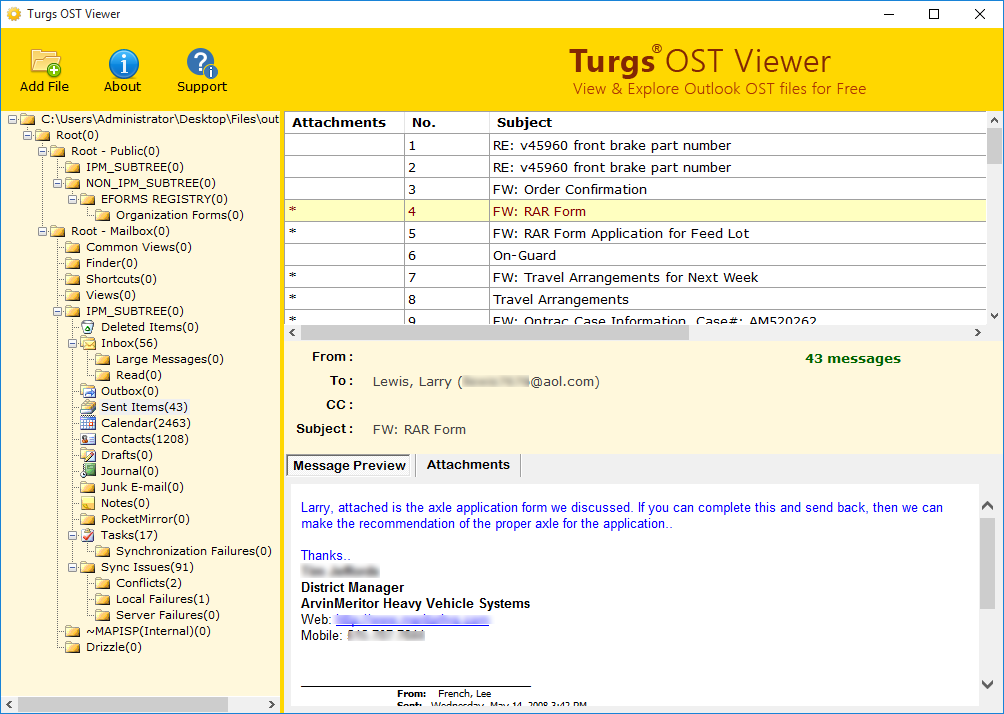 Turgs free OST File Viewer is also another great software solution. One can easily view & read Outlook OST files without Outlook. It simply adds an OST file and provides an instant preview of it in just a few clicks. The highlighted features of Turgs are:
View Encrypted & Password Protected OST: Allows users to open even encrypted & password protected OST files without any hassle. In addition, it does not require MS Outlook or an Exchange Server installation on the system.
Open Orphan OST File: With the help of this OST file viewer, a user can open and read disconnected or orphaned OST files also.
Maintain Folder Hierarchy: After previewing OST file data items, the software does not compromise the original formatting and folder hierarchy.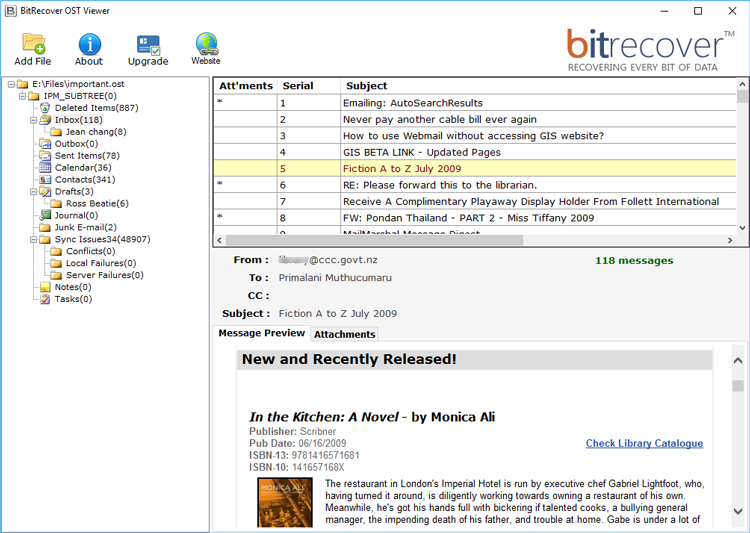 OST File Viewer by Bitrecover is another popular tool amongst the top 4 OST viewers in my selection. It is an effective utility to access Offline OST files in a simplified manner. It provides a view of all components maintained in an OST file and keeps any folder structures intact.
View Folders & Sub-folders of OST File: A user can easily view & examine a folder and sub folders in an OST file using this software. It provides a preview of each and every item stored in an Outlook OST file.
No File Size Limitation: There is no file size limitation imposed by this free OST viewer. A user can view OST files of any size and on any version of Windows.
No Extra Installation Required: Another impressive feature of this software is that it is a standalone utility. It does not require any installation to launch and use on your local machine.


Handy Viewer Download Links
In order of discussion..
My Final Word
In this article, I discussed what I consider to be four of the best OST viewers around that you can use to open and view OST files. All four tools are completely safe and secure from any type of virus or malware attack. You can easily download them from their official websites using the links above without any risk of data loss. Apart from this, the best part of all is that all four viewers are totally free of cost and packed with advanced features. All of them help in accessing dismounted, orphaned or corrupted OST files in just a small number of clicks. Give them a try and tell me which "your" favorite is in the comments below.